There's a statistic that highlights just how bad things are at Nigeria's seaports: despite its vast import-dependent economy, the country is no longer home to be leading container port in West Africa.
That title now belongs to Togo where, largely thanks to implemented reforms, container traffic at the port of Lome has grown more than three-fold since 2013, data from Dynamar, a Dutch maritime intelligence and consulting firm, show. In contrast, things have stagnated at Nigeria largest port in Apapa, Lagos which remains hamstrung by a combination of decades of inefficiency and red-tape leaving room for corruption to thrive. Indeed, it is often far easier to pay middlemen (sometimes in cahoots with customs officials) to clear goods at the port than to go through official processes.
The slow-moving nature of the ports' operations has resulted in perpetual congestion but the inefficiency is coming at a significant price as container traffic to the port has dipped nearly 30% in the past five years, according to Dynamar. Nigeria's loss has proven to be Togo's gain as the small West African nation doubles down on reform and investment plans to transform itself into a pivotal transit hub in the Gulf of Guinea.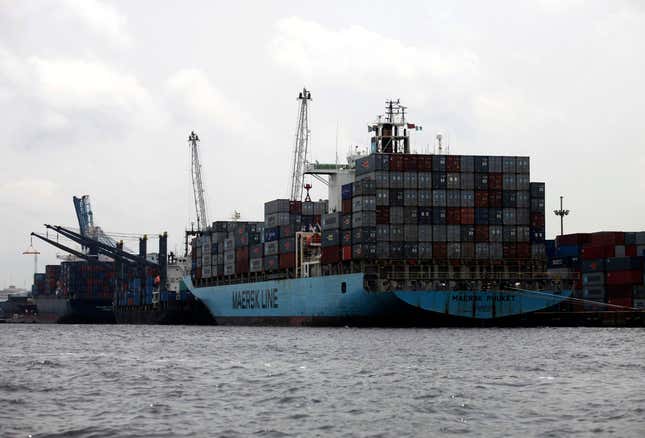 The attempted reforms by successive Nigerian governments have been less productive. Measures issued by a recent presidential executive order, including commencing 24-hour operations and cutting out bribe-demanding local touts and customs officials are yet to result in easing the business of imports and exports. Instead, the cost of transporting containers from the Apapa port to destinations across Lagos have more than doubled over the past year alone. In fact, revamping the port's operations will require fundamental infrastructure changes such as revamping access roads to the port which remain dilapidated.
While the congestion in the Apapa port has been largely contained around the area in the past, its effects are starting to spill over and cause a major strain on residents across Lagos. Unable to access the congested port, 40-foot container trucks are backed up as far back as 10 kilometers in queues resulting in snaking lines across several commuter highways and bridges.
As such, the long lines of container-laden trucks have considerably worsened the already notorious traffic jams in Lagos, Africa's largest mega-city, home to an estimated 21 million people. Ahead of Lagos governorship elections in February, the trucks have become a political talking point. The federal government's attempts to resolve the issue—including a high-stake meeting involving vice-president Yemi Osinbajo last year—have fallen flat.
In some cases, the persistent traffic is forcing significant lifestyle changes. Dapo Johnson, a broadcast intern who lives close to the port says his daily 45-minute commute to work has been extended by two extra hours while Dikachim Nwankwo, a digital brand and communications manager, has relocated to a more expensive Lagos neighborhood simply to avoid hours of traffic daily. "I barely had a life. It [traffic] was frustrating," he says. "Rent and living costs are higher but this is better."
For import-dependent businesses, the cost of the ongoing congestion is likely to run into millions of dollars. For instance, the Dangote Group, the conglomerate owned by Aliko Dangote, Africa's richest man, estimates it may lose $41 million due to the gridlock at the Apapa port this year. One measure of the cost of the inefficiency is reflected in the costs of shipping goods to Nigeria as analysis on overseas cargo and freight costs by MoverDB, an online resource for international shipping, shows the cost of shipping both 20-foot and 40-foot containers to Lagos ports from New York is the most expensive in the world of the 47 major port destinations analyzed.
And the high costs are not based solely on distance either: shipping from New York to Nigeria is nearly double the cost of shipping to South Africa even though Nigeria is closer, by nautical miles, to New York compared to South Africa.
Sign up to the Quartz Africa Weekly Brief here for news and analysis on African business, tech and innovation in your inbox