One month before the anniversary of Arab Spring protests that toppled long-time president Hosni Mubarak in 2011, Egypt is taking steps to avoid a repeat.
Local authorities are restricting sales of yellow vests with distributors instructed to only make wholesale sales to verified companies after securing police permits, AP reports. The restrictions will prevent sales to walk-in buyers and distributors who flout the restrictions could face possible punishment.
The working-class yellow vest or gilet jaune has recently become symbolic following weeks of widespread protests in France with thousands taking to the streets, wearing the vests, to protest fuel price hikes and low wages in France. The intensity of the protests have cost France an estimated $11 billion and have forced French president Emmanuel Macron to make concessions, scrapping the planned price hike and promising to raise minimum wages.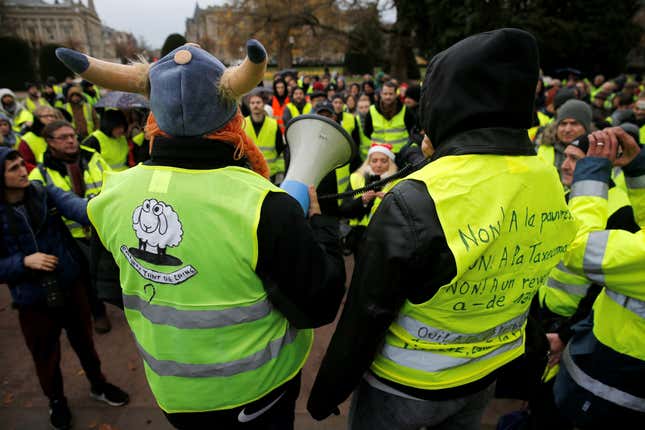 Egypt's government, led by former general turned president Abdel Fattah al-Sisi, will likely have noted that the origins of France's yellow vest protests bear semblance to how the 2011 protests in Egypt began with organic grassroots growth and mobilization via social media.
Restricting potential yellow vest protests is in keeping with president Sisi's tendency to stifle dissent since first taking office in 2014. Sisi's stranglehold on Egyptian institutions was laid bare during elections in March when he won 97% of votes. Sisi's major challengers for the presidency, including former government officials, either dropped out of the race following confrontations with the military or based on the belief that the elections would not be fair.
But despite the landslide victory, the voter turnout of less than 50% and brewing frustration with economic policy, especially among the middle-class, suggests Sisi does not enjoy as much public support as the election results suggest.