Kenya has made true a pledge to change the images on its currency when it promulgated its new constitution in 2010.
The Central Bank of Kenya has launched new generation coins that exchanged the use of portraits of Kenyan individuals for native wildlife images. The new coin designs, which were introduced to the one, five, ten, and twenty shillings, paid tribute to Kenya's environment and the nation's rich abundance of wildlife. The rollout of the new-look currency coincided with the nation's 55th independence date on Dec. 12 and was made by British banknote-manufacturer De La Rue.
Paying homage to major wildlife species is pragmatic given how much it promotes tourism, a key foreign exchange earner in Kenya. In 2017, more than 2.3 million people visited Kenya's national parks and game reserves, according to the Kenya National Bureau of Statistics.
Yet the bigger issue is an attempt to highlight Kenya's diversity instead of celebrating specific leaders. When Kenya adopted its current constitution in 2010, the law dramatically decentralized power relations, promised for greater accountability and fairer distribution of resources. The law also dictated that coins and banknotes "bear images that depict or symbolize Kenya or an aspect of Kenya but shall not bear the portrait of any individual." Currency notes usually featured the faces of the country's first and second presidents, Jomo Kenyatta and Daniel arap Moi respectively, while a limited 40-shilling coin featured the third president Mwai Kibaki.
Removing their faces from the new currency—besides replacing holidays celebrating both Moi and Kenyatta with one commemorating the nation's "heroes"— was a way of the charter to lessen the cult of personality and promote commonality in a nation where tribalism and ethnic affiliations are the arbiters of social, political, and economic life.
Kenya has over 40 ethnic groups, yet access to resources and power have usually been for the few, and has led to deep rifts and violence especially around electioneering periods. The country has also only been led by presidents from two groups, namely Kikuyu and Kalenjin, and currencies bearing their faces work to emphasize the nation's ethnicized political and economic reality.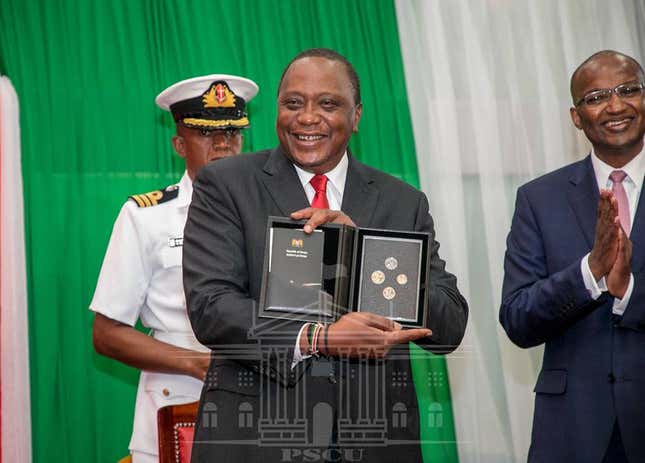 In 2012, that's the message CBK had to heed when it launched a global campaign for a new currency design. The monetary authority called on artists and institutions to submit drawings that would "reflect the spirit of the new constitution" and would be "attractive, socially acceptable and culturally relevant" to Kenya. The call for proposals drew mock-ups from graphic designers online, with Kenyans earlier this year believing renderings by Nairobi-based graphic designer Dicky Hokie, Jr were the real ones.
Despite the hype, the new-look currency has hit its first snag: the Consumer Federation of Kenya has filed a case in court to stop further printing saying there wasn't much consultation of the public in the process of developing the designs.