The countdown to establishing one of the world's largest free trade zones is now closer than ever.
If seven more nations out of the required 22 ratify the African Continental Free Trade Area (AfCFTA), it will make true the dream of not only launching a single market for goods and services in Africa but also instituting the largest free trade agreement since the creation of the World Trade Organization 70 years ago.
The agreement, a flagship project of Agenda 2063 of the African Union, is meant to liberalize intra-African trade, generate jobs, do away with tariffs, and harmonize the work of already-existing regional economic communities.
Once it comes into effect, the deal will cover a market of 1.2 billion people in 55 nations with a combined gross domestic product of $2.5 trillion. The AU says the agreement will reduce export tariffs which currently average 6.1%, and boost intra-African trade by more than 52% after import duties are eliminated. The pact is focused on diversifying trade exports away from just extractives and enhancing the chances of small and medium enterprises to tap into more regional destinations.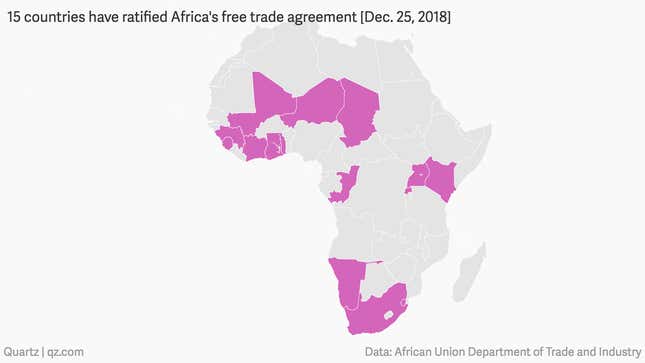 By opening up borders, there's also the chance of increasing employment opportunities for Africa's bulging youth population, especially women who already account for 70% of small-scale, cross-border trade. The United Nations Economic Commission for Africa has called for smaller and less industrialized nations as well as larger ones to embrace the deal since it will improve trade facilitation and customs cooperation.
With this agreement, African countries could be seen to be moving in a different direction to the United States under Donald Trump or Britain after Brexit next year, where bilateral trade seems to be their preferred future.
The move to deepen economic integration also comes as other regions globally undertake measures to improve competitiveness and step toward closer trade and investment linkages. In March, for instance, 11 Asia-Pacific nations signed the Comprehensive and Progressive Agreement for Trans-Pacific Partnership, a successor to the Trans-Pacific Partnership. And even in the face of populist sentiments in the European Union, the region has proposed creating a unified finance minister and a common market to manage debt.
But for all its benefits, the agreement kicked off to a shaky start with nations including Nigeria refusing to sign it—let alone ratify it. As of Dec. 25, 49 countries have signed the agreement, with Togo becoming the 15th nation to fully sanction it. To attain the requisite votes, negotiations are underway to discuss specific provisions on investment, competition, and intellectual property rights, besides enacting policies around e-commerce.
Given the enormity of the structural changes, the European Union said it will allocate €50 million ($57 million) to develop national implementation strategies. Public-private enterprises and figures including Africa's richest man Aliko Dangote have also committed money to canvas support for the deal.
The AU's head for trade and industry Albert Muchanga has said he is confident the remaining votes required to enforce AfCFTA will be secured before the next AU summit in Feb. 2019.
Sign up to the Quartz Africa Weekly Brief here for news and analysis on African business, tech and innovation in your inbox