From a solitary jail cell east of Johannesburg, Mozambique's former finance minister is fighting extradition to the United States.
Manuel Chang was arrested on Dec. 29 at O. R. Tambo International Airport, en route to Dubai from Maputo. He appeared in a Johannesburg court twice this week where his lawyers tried, but failed to argue, that his arrest was unlawful. He'll have a cell to himself while he awaits a decision on whether he will be sent to New York to stand trial alongside three Credit Suisse bankers and a Lebanese businessman. They face charges related to bribery, securities and wire fraud and money laundering.
Days after Chang's arrest, three Credit Suisse bankers, Andrew Pearse, Surjan Singh and Detelina Subeva were arrested in London, while Lebanese businessman Jean Boustani was arrested at New York City's JFK airport and refused bail. Boustani negotiated on behalf of Abu Dhabi-based holding company Privinvest.
Together they are accused of orchestrating a multimillion-dollar racket that nearly brought Mozambique's fragile economy to its knees. Nearly three years ago, Mozambique's war-ravaged economy was buoyed by the 2010 discovery of one of the world's largest natural gas deposits. Then in April 2016 revelations of a hidden debt of over $1 billion shook this newfound confidence. The IMF suspended hundreds of millions of dollars in much-needed aid and investors were spooked. Later investigations revealed that the debt was closer to $2 billion.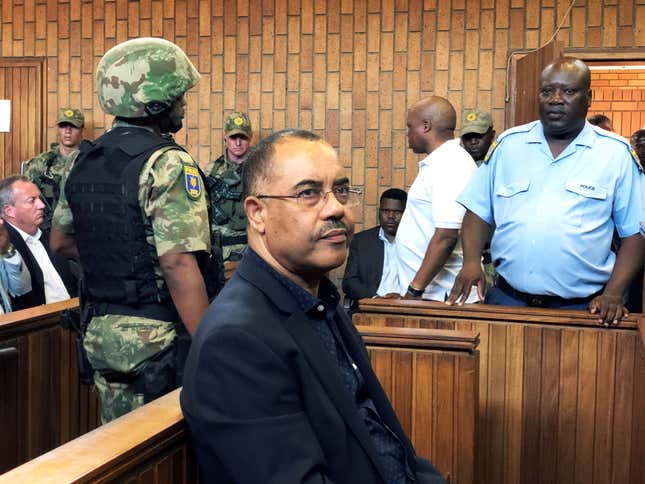 The blueprint
Now, a 47-page indictment filed in a New York court details how Boustani and the bankers harmed Mozambique's recovering economy. In a series of emails revealed in the indictment, they casually orchestrated whole maritime projects to enrich themselves and bribe officials like Chang (who served as finance minister from 2005 to 2015) along the way, amounting to $200 million.
The investigation, led by the US, reveals a blueprint for how desperately needed development could be exploited by unscrupulous international bankers and greedy politicians. The indictment also fingers three Mozambicans in addition to Chang, one a senior official in the finance ministry and the other a relative of a senior official. "To secure that the project is granted a go-ahead by the HoS [Head of State], a payment has to be agreed before we get there," read one email to Boustani, written by a person whose name has been redacted from the public document. The head of state at the time was former president Armando Guebuza, who stepped down in 2015 after serving two terms.
"In democratic governments like ours people come and go, and everyone involved will want to have his share of the deal while in office, because once out of the office it will be difficult…" writes another redacted name in an email on Nov. 14, 2011, adding that the ministries of defense, interior, the air force and others will all "have to be looked after." Current president, Filipe Nyusi was defense minister at the time.
Credit Suisse is not named in the indictment, only a bank referred to as "Investment Bank 1". The indictment shows how the bank's internal processes were manipulated or bypassed in order to secure loans worth hundreds of millions. In one example, they concealed red flags, in another the three oversaw secret due diligence processes to get ahead of the bank's. In yet another, they created fake competing bids to convince their colleagues. Then in 2013, Singh allegedly led the bank's due diligence trip to Mozambique, to scrutinize a project he had earlier set up using private emails.
"No action has been taken against CreditSuisse," the bank said in a statement emailed to Quartz. "The indictment alleges that the former employees worked to defeat the bank's internal controls, acted out of a motive of personal profit, and sought to hide these activities from the bank."
A second bank is also cited but not named. When the scandal broke, it was revealed that Russian bank VTB also issued loans to Mozambique.
Tuna roll
The investigation shows just how susceptible state companies are to corruption. In 2013, Privinvest, the shipbuilding and offshore construction company Boustani represented, scored a $366 million contract with Proindicus, Mozambique's state-owned coastal surveillance company.
The deal would see Privinvest supply materials and training to the country still exploring newly discovered off-shore gas deposits. Thanks to Pearce and his colleagues, Boustani helped Mozambique secure a loan that ballooned to $622 million from an investment bank, assumed to be Credit Suisse and the second bank, likely VTB, to fund the contract. They used thinly veiled coded language, referring to money and bribes as chickens and poultry, to ensure Chang would be paid $5 million before he signed off with the Mozambican government as guarantor of the loans, and ensured that Mozambique's attorney general never scrutinized the tender process. Proindicus never did any significant work or generated any real revenue and was set to default on its loan repayments.
Still, between 2013 and 2014, $45 million linked to ProIndicus passed through Pearse's UAE bank accounts, some of which he shared with Subeva. Mozambican government officials shared $50 million in kickbacks and bribes, and got another $12 million from Privinvest.
The investigation shows just how easily state officials can be corrupted. To create a "cushion," the "co-conspirators" established a state-owned tuna fishing company through Mozambique's state fishing company Ematum in 2013. Again with Boustani and Privinvest, a $785 million contract was secured and another loan, this time of $850 million, was incurred to ensure that Proindicus interest payments would be covered.
"We will go got $800 million so we keep a cushion for Proindicus interest payment next year," Boustani wrote.
Between 2013 and 2014, an alleged $4.5 million linked to the Ematum deal *was* wired into Singh's UAE account, according to the indictment. A further $8.5 million was wired to an unnamed Mozambican citizen, and amounts of $3 million and $8.5 million were wired to two other Mozambican citizens.  Two additional redacted names received $8.5 million and $15 million while Chang pocketed $7 million.
The bank sent $500 million to PrivInvest, and sold bonds to investors in the US and elsewhere with the understanding that the fishing company would generate $224 million in three years, by December 2016. Unsurprisingly, Ematum did no fishing, made no money and defaulted on its first loan payment, due January 2017.
It was Ematum's $25 million losses that first raised suspicions with investors. It became clear Mozambican officials were hiding something when they refused to hand over their books. But, that wasn't before Pearce and his colleagues set up an infrastructure project in 2014 through the Mozambique Asset Management entity, under the pretext of building a shipyard and naval vessels to support the two earlier projects.
With a syndicated loan of $535 million from the second bank (earlier reported as VTB) and guaranteed by the Mozambican government with Pearce's signature, yet another state-run project was set-up to benefit the alleged "co-conspirators."  When the projects were clearly bankrupt, they tried to swap the Ematum loan participation notes for Eurobonds issued by the Mozambican government to hide the scheme by restructuring the country's debt. A default on these is what finally led to a surprise public scandal in 2016 and the subsequent criminal investigation.
Another surprise
Like the debt three years ago, Chang's arrest was a surprise to Mozambicans says Jorge Matine, a public finance researcher at Maputo's Center for Public Integrity. In the years since the scandal, businesses have closed and jobs were lost as foreign investment decreased, says Matine. Angry Mozambicans want redress.
"The FBI is only the first step," Matine says. "My opinion is something else is coming from other governments that invested."
Mozambican civil society has welcomed the US-investigation, which they believe will absolve tax-payers from paying for a crime. Mozambique's attorney general, however, complained this week in a public statement that the Americans refused to comply with earlier requests for assistance. Chang's arrest has also triggered a flood of fake news on social media, warned journalist and analyst Joseph Hanlon.
In an election year, a scandal implicating members of the ruling party could be a political disaster, but not so says Matine. Nyusi has spent his first term cleaning up party scandals, now with it all out in the open the second term, that he will likely win, "he'll feel relief." It's unclear though, just how this investigation will affect the powerful members of the ruling party.
Yet, even in a jail cell, Chang is likely a confident man, says Matine, sure that his connections to Mozambique's political elite will protect, or fall, with him.
Sign up to the Quartz Africa Weekly Brief here for news and analysis on African business, tech and innovation in your inbox