Explosions and heavy gunfire were again heard this morning (Jan. 16) at the luxury hotel complex in Nairobi, Kenya, after government officials said they had secured the area and evacuated hostages.
A few hours later, president Uhuru Kenyatta gave a speech declaring the security operation over, almost 17 hours after the deadly terror attack began. At least 14 people were killed in the attack, and 700 civilians evacuated, he said. Kenyan forces, he added, had killed all the militants involved in the assault, which was claimed by the Somali terrorist group, al-Shabaab.
Rescue operations continued throughout the night and into the morning as families and loved ones posted on social media about people who were missing, trapped, and rescued. First responders also evacuated dozens of people from the Grosvenor hotel in the 14 Riverside complex, which also houses retail and office buildings. Police said the complex was still "a crime scene that is under an active security operation" and that people should avoid the area "[u]ntil it is declared safe."
The terror assault began after 3pm yesterday (Jan. 15), with gunmen attacking a bank, setting off car bombs in the parking lot near the entrance, followed by a suicide explosion in the foyer of the dusitD2 hotel where a number of guests suffered injuries. Details about those killed, including a Briton and American, continued to surface throughout the night and into the morning.
The victims included American Jason Spindler, CEO of strategy and investment firm I-Dev, as well as Feisal Ahmed and Abdalla Mohamed Dahir, Kenyan nationals who worked for the Somalia Stability Fund, a project focused on rebuilding the country that is managed by the professional-services firm Adam Smith International. Former colleagues and friends described them as "brilliant" and "two of the sweetest people."
"Abdalla and Feisal were the nicest and most righteous people I know," Haybe Abdi, an Ottawa, Canada resident who had worked with them, told Quartz.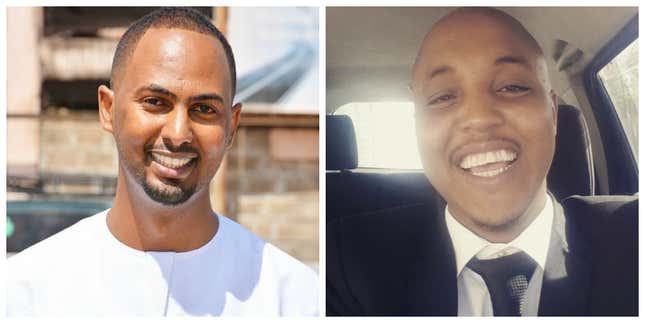 The contradictory nature of the government's narrative has pushed some to question the efficiency of the rescue process. During the 2013 attack on the upscale Westgate shopping mall where 67 people were killed, security officials prevaricated and gave conflicting details, with intelligence officials later saying they believed some attackers escaped in the confusion. President Kenyatta, however, praised security services who "dealt with the enemy decisively" during the Riverside attack.
The government "continues to prioritize saving face over telling Kenyans the truth," communications consultant Patrick Gathara wrote in response to earlier contradictions between official statements and the reality on the ground. "This is a big reason why we continue to have such difficulty talking about terror attacks as they are happening."
Sign up to the Quartz Africa Weekly Brief here for news and analysis on African business, tech and innovation in your inbox