The news that Nigeria's former education minister Oby Ezekwesili had decided to drop out of the race for Nigeria's presidency despite a vocal and energetic campaign raises questions about the viability of a candidacy outside Nigeria's major parties.
Ezekwesili, who after her stint in government, became internationally recognized as one of the activists behind the Bring Back Our Girls movement, says she will focus on building a coalition "that would allow Nigerians to exercise choice without feeling helplessly saddled" with the two major parties.
Even though Nigeria operates a multi-party system by law, in reality, only two parties—the ruling All Progressives Congress (APC) of president Muhammadu Buhari and the opposition People's Democratic Party (PDP) of Atiku Abubakar—make up the political establishment, occupying most offices across the presidency, federal legislature and state governorships. The two-party dominance is itself fairly recent as, until 2015, PDP was the only major Nigerian party with national reach.
Breaking that dominance and scoring a major upset in the process is the goal a slew of anti-establishment candidates. Positioning themselves as "third force" options,  these candidates each hope to break new ground during Nigeria's presidential elections on Feb. 16.
Across the field, candidates are hoping to take advantage of citizens' growing frustration with underwhelming leadership from the two major parties. After ruling for 16 years, PDP was voted out in a historic election four years ago, a testament to a more expressive and determined electorate. And given APC's unconvincing tenure, the growing sentiment is there's a chance for another major shift in Nigerian politics.
But it's easier said than done, if you do not belong to either of the major parties.
Despite attempts to play up the supposed lack of a defining ideology between PDP and APC—evidenced by the regular decamping by their members, no independent candidate is considered strong enough to pull off an upset next month. One statistic highlights just how difficult the task is: during Nigeria's presidential election in 2015, there were more cancelled votes than the total votes cast for all the alternative parties.
Stronger together?
The precarious nature of being a non-establishment political party in Nigeria was in evidence after Ezekwesili's announcement. No sooner had she stepped down than her own party denounced her as candidate and threw its support behind president Buhari. Meanwhile, Nigeria's electoral commission has rejected her withdrawal altogether for being too late.
The field may thin out even more as other "third force" candidates have indicated they may step down as well. Aside from Ezekwesili, there are as many as 70 other candidates running for president under smaller parties.
Among the most prominent are former Central Bank deputy governor, Kingsley Moghalu, motivational speaker and coach, Fela Durotoye as well as activist and publisher of Sahara Reporters, Yele Sowore. Despite their parties having little chance of matching APC or PDP for national reach, they are hoping that the strength of their public profiles offers enough platform for their ambitions.
The subject of a possible coalition among the alternative candidates to increase chances of victory has always lingered. Indeed, reaching—and winning over—a bulk of Nigeria's 84 million registered voters requires resources and political machinery, which individual candidates or independent parties are unlikely to possess. The ruling APC was itself created from a merger of four independent political parties ahead of the 2015 elections and is a model of what's possible.
"That [a merger] worked in the past so I suspect it is a route to try again." says Gbenga Sesan, activist and founder of Paradigm Initiative, an ICT-focused social enterprise. "It's quite late now but if they want to play a 2023 [election] game, this is the time to start," he adds. Indeed, a coalition formed now will have existed for only three weeks before the Feb. 16 elections whereas APC was formed two years before the 2015 polls.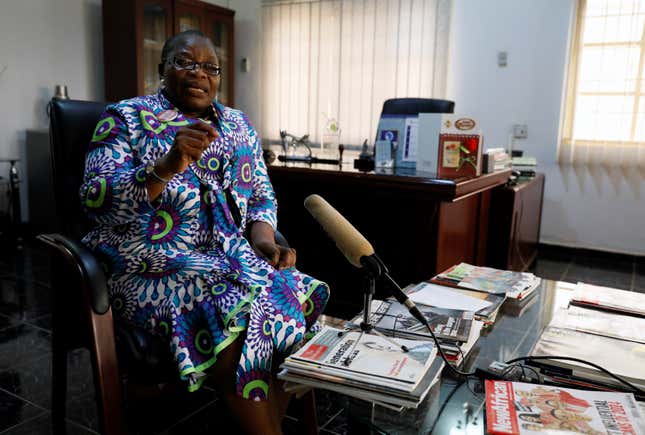 In the absence of the coalition, independent candidates have faced cynical opposition from voters who dismiss their candidacy in favor of the big two parties. In the clash between the idealism of wanting a different set of political leaders following successive underwhelming administrations and the pragmatism of inevitably picking whichever candidate from the two biggest parties is perceived as "a lesser evil," pragmatism often wins.
"Nigerians want to vote for someone they believe can win," says Jude Feranmi, former national youth leader of KOWA party which garnered just over 13,000 votes for its presidential candidate in 2015. The chances of a party's victory, he argues, is measured by public's perception of its nationwide structure—consisting of party members, agents, surrogates and offices—and history. "Structure means a party whose name is known beyond capital cities, it involves being able to plant an agent in every polling unit to protect votes on election day," Sesan emphasizes.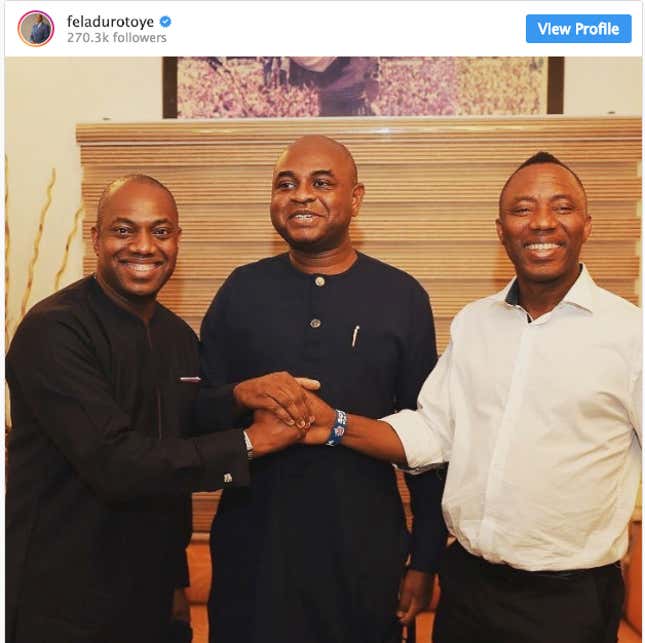 To shore up the lack of structure, candidates outside the major parties often look to leverage their popularity and personal brands. But even that's not enough, Feranmi argues: "One might have nationwide popularity but still not win if that popularity is scattered." It's an important caveat as Nigeria's electoral laws requires the president-elect to win both a simple majority and at least 25% of votes in 27 states of the 36 states.
In trying to even the odds with creative campaigns, alternative candidates are often confronted by "the extreme monetization of the Nigerian political system,"  says Seun Onigbinde, founder of BudgIT, a civic enterprise focused on government accountability. "It requires huge resources to maintain a campaign on a national scale," he says. Indeed, beyond expected campaign expenses including media spots, ad and multiple rallies, a culture of "vote buying" can greatly inflate costs.
As they are currently unable to match the major political parties in spend and structure, Onigbinde says these candidates "will have to decide if they want to organically build a national base which will take long years to crystallize." That long game option will require "hard work over the next three to four election cycles" before it can possibly result in winning over enough voters, Sesan estimates.
But ultimately, it will also require a major shift in voters' mindset of repeatedly adopting the pragmatism of limiting their voting choices, Sesan adds: "If we keep 'facing reality,' we will be stuck with the two party dominance forever."
Sign up to the Quartz Africa Weekly Brief here for news and analysis on African business, tech and innovation in your inbox