Nigerians did not vote as planned last week after elections were delayed over logistical problems.
But despite the extra planning period, voting has not begun smoothly in Africa's largest democracy. In Nigeria's troubled northeast, voting has been hit by multiple reports of suspected Boko Haram bomb blasts just hours before voting was due to begin in Maiduguri and Yobe, two of the region's largest cities.
While voting is finally underway in other parts of the country, there are signs that INEC, Nigeria's electoral commission, is not fully prepared given reports of delayed starts to voting in various polling units across the country. With accreditation of voters due to begin at 8 am local time, INEC officials showed up late across several polling units. In the upmarket neighborhood of Victoria Garden City in Lagos, voters had begun queuing at a polling unit even though INEC officials had not arrived.
While INEC officials arrived on time in some polling units, they came clearly unprepared without table and chairs to place voting materials on. At a polling unit in Maitaima, Abuja, Nigeria's capital city, officials improvised and resorted to using benches. In another Abuja polling unit in Garki, with officials also without tables and chairs, voting did not begin until one of the voters rented and paid for tables and chairs for the officials. With elections set to hold in nearly 120,000 polling units (some of which have multiple voting points) across Nigeria's 774 local governments, chances of similar hiccups are high.
There were no voting problems in Daura, Katsina, at the polling unit of president Muhammadu Buhari though with the first couple already casting their ballots. Like the president, Atiku Abubakar, the main opposition candidate, cast his vote without major issues in Yola, Adamawa.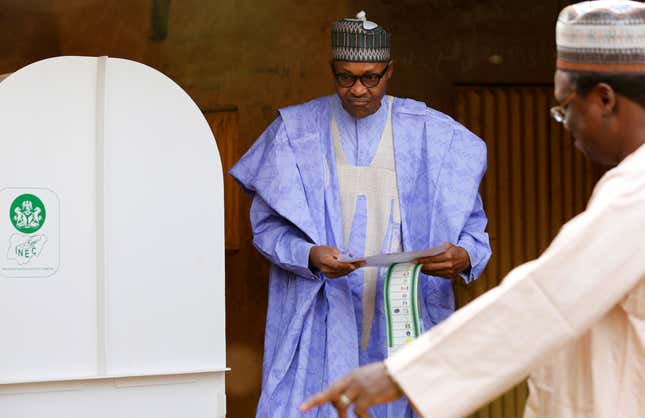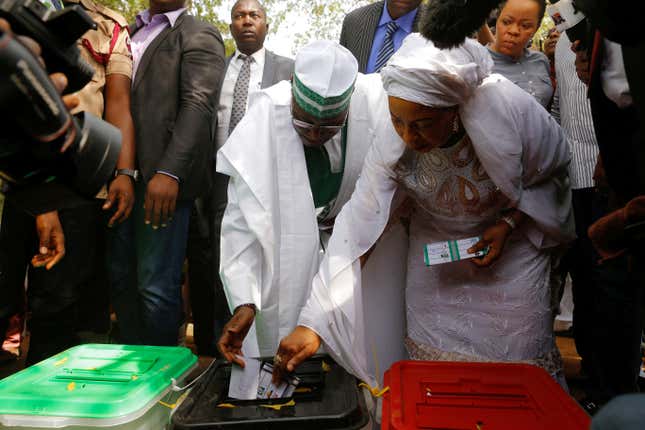 With elections in Africa's most populous country known for its long queues, lots of stress and very little else to do, voters are going to polling units with "starter packs"—a variety of items to make the process more tolerable.
In some ways, contents of the starter packs are symptomatic of life on election day in Nigeria. Given large-scale restriction on movement and businesses, having water and drinks handy to stay hydrated and some snacks is a smart choice. Nigeria's infamous power cuts also mean power-banks, devices that can recharge phones on the go, are ubiquitous picks on election day: voters with access to the internet and social media will look to stay online for as long as possible, sharing reports and results from their polling units.Headphones are also a common choice and can come in handy to listen music or catch-up on Netflix shows while on long voting queues—or to simply pretend to be plugged in and avoid chit-chat from strangers.
In some cases, making election day bearable can also be a joint effort: at a polling unit in Yaba, Lagos voters are donating food, drinks and comfortable seats to get through the day.
Sign up to the Quartz Africa Weekly Brief here for news and analysis on African business, tech and innovation in your inbox