Algeria saw its largest protests ever yesterday in several cities against ailing president Abdelaziz Boutfleika after he announced that he would be running for a fifth term.
Calling for the downfall of the regime, protestors echoed the deafening slogans of the Arab Spring eight years ago that brought down Ben Ali in Tunisia, Mubarak in Egypt and Qaddafi in Libya.
Police clashed with young demonstrators firing water cannons and tear gas as they marched towards the presidential palace in the capital Algiers. In dramatic scenes, some demonstrators managed to scale a building and tear down a massive poster of the octogenarian autocrat.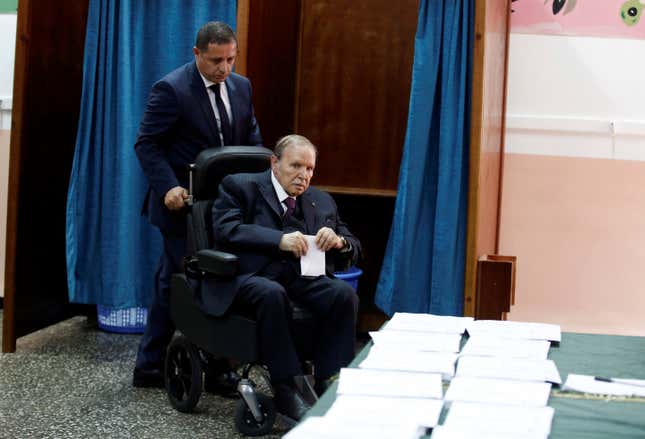 Protesters have been active on social media posting videos of the demonstrations and mobilizing online for future street protests.
Internet services were reportedly disrupted in several regions of the North African country in a similar tactic used by other African governments afraid of swelling protests. Algeria previously blocked Facebook and the internet before to curb cheating among students taking school exams.
The 82-year old, who been in power for 20 years, declared earlier this month that he would continue on for another five-year term in elections scheduled for April.
Political talk has been swirling for years about who will succeed Bouteflika since his health deteriorated after a stroke in 2013 confining him to a wheelchair. He has rarely been seen in public in recent years.
The political uncertainty has had a "significant impact" on Algeria's economic outlook. Real GDP growth in Algeria is expected to remain lackluster over the coming years, according to analysts at credit agency Fitch who forecast growth of 2.5% and 2.3% in 2019 and 2020 respectively. "Oil and gas production, the major drivers of growth in Algeria, will be weak, while fiscal consolidation will increasingly drag on growth. Longer term, the economy will be hampered by a weak political outlook and lack of economic reforms."
Oil and gas are the main source of income for the largest African country, accounting for nearly 94% of exports but that has not trickled down to everyday Algerians with unemployment hovering around 11% (even higher for young people) and subsidy cuts affecting their lives. Doctors and teachers last year protested for several months demanding better working conditions.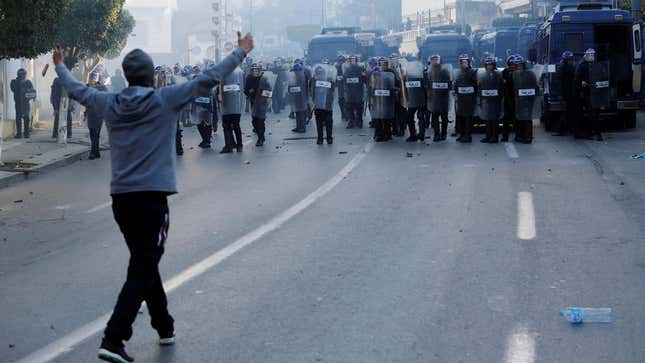 Algeria, with a bloody history of civil wars that ended in the mid nineties, avoided the sweeping political wave of other Arab Spring countries with sporadic protests in 2011. Though it did force Bouteflika to lift a two-decade state of emergency.
Protests are extremely rare in the secretive police state as they have officially been banned since 2001. The frustration of the youth, representing 60% of Algeria's population, mirrors the demands in Morocco and Sudan this week where large-scale demonstrations took place.
Fitch analysts say Boutefilka's succession uncertainty is "likely to lead to heightened uncertainty and weigh on confidence, as there is a lack of consensus among ruling elite who will eventually take over once Bouteflika steps down. This has the potential to lead to destabilizing battles between the various factions within the ruling elite."
Sign up to the Quartz Africa Weekly Brief here for news and analysis on African business, tech and innovation in your inbox