A resurrection has many South Africans questioning the faith industry. On Sunday (Feb. 24) a video went viral of a man risen from the dead, after an evangelist prayed for him at a megachurch in Johannesburg.
In the video, pastor Alph Lukau of the Alleluia Ministries International lays hands on a man in a coffin, who sits up in the coffin in what the church declared a miracle. The man is alleged to have died on Friday and his body was being transported to Zimbabwe when his grieving family turned into the church on Sunday. After he was brought back to life he was paraded around inside the church, then fed a plate of food, all while wearing a shocked expression.
The Sunday service was live-streamed on Lukau's YouTube page, which has 635,000 subscribers, and then tweeted to the pastor's more than 22,700 followers. South Africans responded by starting a resurrection challenge on social media, mocking the miracle. Yet, there were just as many who believed it, prompting the Commission for the Promotion and Protection of the Rights of Cultural, Religious and Linguistic communities, (CRL Rights Commission) to launch an investigation.
"The time has come for South Africans not to be duped, to ask critical questions when certain events occur in the country or any other environment in which they find themselves," said Professor David Luka Mosoma, deputy chairperson of the CRL Rights commission.
While the commission will approach the matter with "a clear mind," they will be questioning how, "the laws of nature, which say that the person who dies does not come back, have been suspended,"  Mosoma said in a televised press conference on Tuesday. 
In 2017, the commission released a report (pdf) on the commercialization of religion and the abuse of people's beliefs as stunts like spraying insecticide on congregants to clear demons or a pastor selling selfies with Jesus began to proliferate. The commission handed some churches over to the state for investigation, particularly into their finances, but that has not stopped the prosperity gospel from appealing to millions of South Africans.
"Miracles are our daily bread," pastor Lukau shouted into a gold glitter microphone earlier in Sunday's resurrection service. "You are leaving here with a minimum of seven outstanding miracles."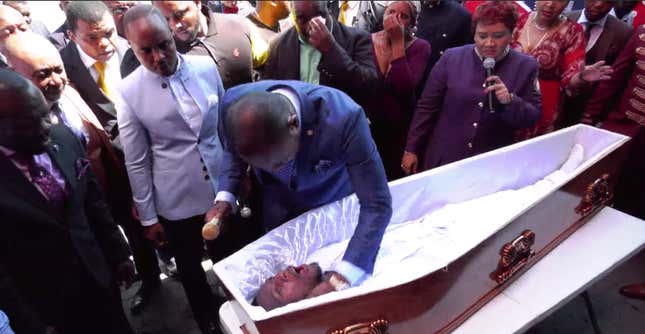 Before the alleged resurrection, Lukua had supposedly healed several people in wheelchairs. The ushers displayed the now empty wheelchairs on stage and congregants offering up discarded crutches.
As backlash mounted this week, the church backtracked on its statement that a "dead man" had come back to life, but rather that Lukau had only "completed a miracle that God had already started."
The coffin, they said, began rattling as the car approached the church. Under more scrutiny, the miracle began to look decidedly more questionable. Three funeral parlors are also considering suing the church over misrepresentation and reputational damage. Members of the church allegedly approached three different funeral parlors to procure a coffin, stickers and a hearse.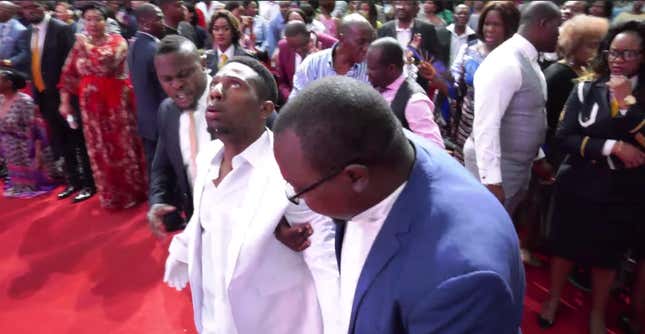 The Lazarus in the story was revealed to be a 29-year-old Zimbabwean man named Brighton, who worked at a timber factory in Pretoria. Identified only by his first name, the man has not been seen at work since last Tuesday (Feb. 19). Brighton has allegedly also helped the pastor by pretending to be wheelchair-bound, his employer told a local radio station.
Other pentecostal churches condemned Alleluia Ministries International after funeral parlours came forward. Lukau has since then continued to tweet Bible verses about faith.
Sign up to the Quartz Africa Weekly Brief here for news and analysis on African business, tech and innovation in your inbox