The challenges facing Kenya's aviation sector in recent weeks continue to compound.
A labor strike this morning (Mar. 6) disrupted operations at Nairobi's Jomo Kenyatta International Airport (JKIA), the country's main airport and one of the busiest in Africa. The flag carrier Kenya Airways (KQ) also said its operations were affected, advising customers to expect delays, cancellations, and schedule changes. It also diverted its flights from Sudan and Ghana to Tanzania and the coastal city of Mombasa respectively.
Hundreds of passengers were left stranded at JKIA, with the Kenya Airports Authority (KAA) advising passengers to double check their travel arrangements with their respective airlines. Fire engines on the runway were withdrawn, with security screening, check-in, and baggage-handling areas all empty of staff. Scenes of chaos also unfolded after riot police dispersed aviation workers and passengers crowded near the main terminal one. A staff member of Kenya Airways was reportedly injured during the scuffle.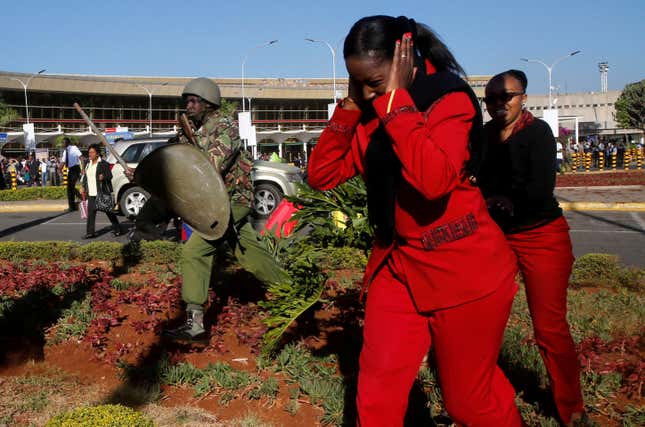 The Kenya Aviation Workers Union said they would go on strike over calls to merge the management of both Kenya Airways and the airport in a bid to turn around the fortunes of the loss-making carrier. The deal, they said, is being rushed and would lead to the loss of jobs. The scheme also elicited mixed reactions from lawmakers and businesspeople, with many questioning if the proposed plan will be feasible.
For years now, the cash-strapped airline has struggled to turn around its fortunes and revamp its image, especially as it faces stiff competition from other state-owned airlines on the continent like Ethiopian Airlines or from the Gulf like Emirates and Qatar Airways. This week, it emerged Kenya Airways only owned 20 of its 40 aircraft, and was still servicing loans for 17 other planes.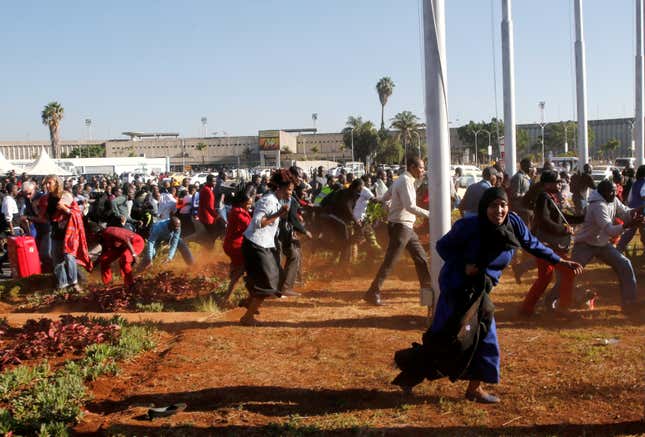 The aviation employees undertook the industrial action even though a court injunction ordered its suspension. Authorities this morning arrested the union's leader Moss Ndiema.
Transport minister James Macharia said on Twitter the situation at the airport was under control and that the disruption was caused by about 30 aviation workers "who engaged in illegal activities within JKIA's compound aimed at sabotaging the airport's operations." In a statement, Kenya Airways said preparations were underway for its flights to Mumbai, Amsterdam, and London to depart.
Sign up to the Quartz Africa Weekly Brief here for news and analysis on African business, tech and innovation in your inbox