An Ethiopian Airlines passenger flight from Addis Ababa has crashed on its way to Nairobi, killing all 157 people on board.
The Boeing 737 passenger jet had 149 passengers and eight crew members on board, Ethiopian said in a statement. The ET 302 plane lost contact six minutes after takeoff at 8.38am local time and crashed around the town of Bishoftu, located 60 kilometers (37 miles) southeast of the capital Addis Ababa. Passengers from over 30 nations, including from Kenya, Canada, China, and the United States were among those who perished.
The office of Ethiopian prime minister Abiy Ahmed was the first to announce the crash on Twitter, sending "deepest condolences to the families of those that have lost their loved ones." Kenya's president Uhuru Kenyatta said he was "saddened by the news" writing on Twitter, "My prayers go to all the families and associates of those on board." Ethiopian's head Tewolde GebreMariam also arrived at the accident scene hours later, confirming there were no survivors.
Emergency response centers were also set up for family and friends in both Addis Ababa and the main international airport in Nairobi. Boeing said in a statement its technical team was ready "to provide technical assistance at the request and under the direction of the U.S. National Transportation Safety Board."
Sweden-based flight tracking platform Flight Radar24 said the plane's "vertical speed was unstable after take off." Ethiopian confirmed the aircraft was Boeing 737-800 Max, the same model that was involved in the Lion Air flight that crashed in October 2018 a few minutes after departing from Jakarta, Indonesia.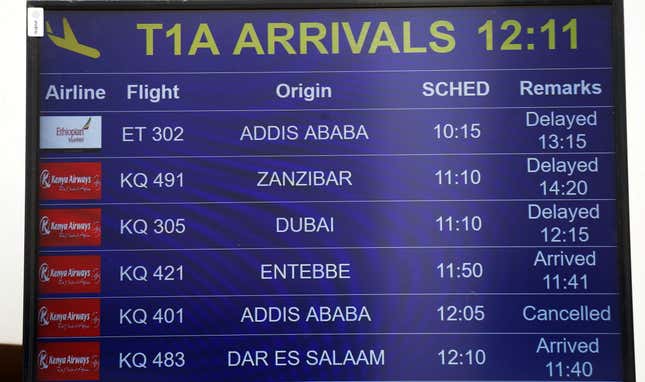 The crash could constitute a huge setback for Ethiopian, which has built a stellar reputation as one of the world's fastest-growing international airlines and Africa's largest carrier. Over the last decade, through investments in aircraft and airport expansion, regional and continental partnerships, coupled with smart marketing and PR efforts, the airline has mostly turned around any negative perceptions of being an "African airline" in a continent where most local international airlines have struggled.
As of January, Ethiopian was operating a fleet of 111 planes and was flying to more than 119 international passenger and cargo destinations, with over 61 of those in Africa alone.
The state-carrier has experienced at least 60 accidents and incidents in its over 70-year existence, according to the Aviation Safety Database. In 1988, more than 30 people died after one of its jets lost power in one engine and crashed in the northwestern Ethiopian city of Bahir Dar. In 1996, a hijacked Ethiopian airline ran out of fuel and crashed into the sea just off a beach on the Comoro Islands, killing 125 of the 175 people on board. And in 2010, all 90 people on board a flight from the Lebanese capital died after their plane crashed into the Mediterranean Sea minutes after taking off in stormy weather.
Sign up to the Quartz Africa Weekly Brief here for news and analysis on African business, tech and innovation in your inbox