Congolese-American activist Patricia Okoumou will not go to prison for climbing Lady Liberty's pedestal on July 4, 2018 to protest the Trump administration's immigration policy of separating children from their families at the Mexican border.
Following her guilty conviction in December, Okoumou faced 18 months behind bars, but on Tuesday US Magistrate judge Gabriel Gorenstein sentenced Okoumou, instead, to 200 hours of community service and five years of probation. Gorenstein warned Okoumou that she would face jail time if she broke the law during future protests. If things "went swimmingly," Gorenstein said, "a motion to terminate probation would be considered."
The sentence came after the defiant Okoumou showed up in court with her face covered in tape, a symbolic protest of what she describes as the suppression of her freedom of expression. Prior to the sentencing, Okoumou, who is originally from Congo-Brazzaville, had been placed under house arrest for two weeks for violating the terms of her earlier probation by scaling the four-story Austin, Texas headquarters of Southwest Key, a non-profit operating 24 detention centers for undocumented migrant children in Arizona, California, and Texas.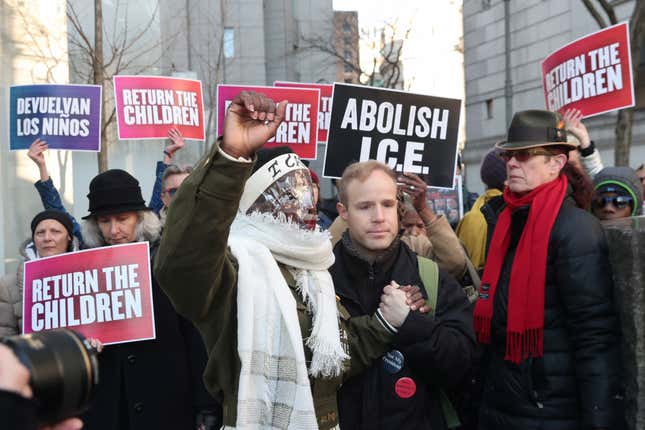 With the new sentence, the judge ordered the removal of Okoumou's ankle monitor. As part of the terms of her probation, she is required to maintain gainful employment. She is now a community liaison for the Salvage Art Institute, a non-profit that collects damaged art.
"When he's telling me go find a real job, what they're saying is we don't want you to exercise your freedom to assemble," Okoumou said. She dismissed her critics and the court as "morally bankrupt," but was happy to be a free woman; (she had threatened to go on a hunger strike if she was sent to prison.)
Prior to the sentencing, Okoumou, then a full-time activist, scaled the Eiffel Tower in France and a Border Patrol Museum in San Antonio, Texas.
According to Okoumou's lawyers, The Law Office of Ronald L. Kuby, Judge Gorenstein, on the record, acknowledged all the mitigating circumstances and deemed jail was not necessary to ensure Okoumou was adequately punished or deterred from engaging in similar law-breaking protests in the future.
"If you violate the terms of probation, one of which is not to violate the law, you can then be sent to jail. And having that possibility over Patricia's head for five years is enough to deter her, believes the judge as do we," said one of Okoumou's lawyers, Rhiya Trivedi.
While Okoumou is yet to express how her activism will continue without her signature ability to climb symbolic and morally problematic edifices, her lawyers suggest that her lucky streak will end if she climbs again. When asked how the law office would respond if Okoumou repeated or engaged in similar activities, Trivedi said: "We will continue to fight for the beliefs that underlie Patricia's activism. Having done one bail revocation and one sentencing and kept her out of jail, it will become much harder for us to do that.
"We have almost no hope that if she were to climb again that we could keep her out of jail but she knows that. So if she climbs again it's my belief and opinion that she'll be doing it with almost certain consequence that she will go to jail for some period of time."
Sign up to the Quartz Africa Weekly Brief here for news and analysis on African business, tech and innovation in your inbox