Ride-hailing giant Uber has chalked up a major win in its chase for global market share with a $3.1 billion acquisition of Careem, its major competitor in the Middle East and North Africa.
The acquisition, Uber's biggest ever, translates into dominance in key markets in North Africa where both ride hailing companies have previously tussled for users. The acquisition will see the Dubai-headquartered Careem become a wholly-owned subsidiary of Uber while operating independently and retaining its name, app, brand and services.
As Careem operates in three times more cities than Uber in North Africa, it marks a major shift in the ride-hailing landscape in the region.
Until the acquisition which had been rumored for several months and faced opposition from Egyptian authorities, both startups had been locked in long-running competition.
In Egypt, for instance, as part of plays to court more users by providing low-cost transportation services, Uber and Careem both launched ride-hailing bus services in the same week last December. The competition has gone on amid regulatory concerns, including a revocation of licenses (which was later overturned) and the familiar opposition from local taxi operators who accused the ride-hailing companies of short-changing drivers and avoiding taxes.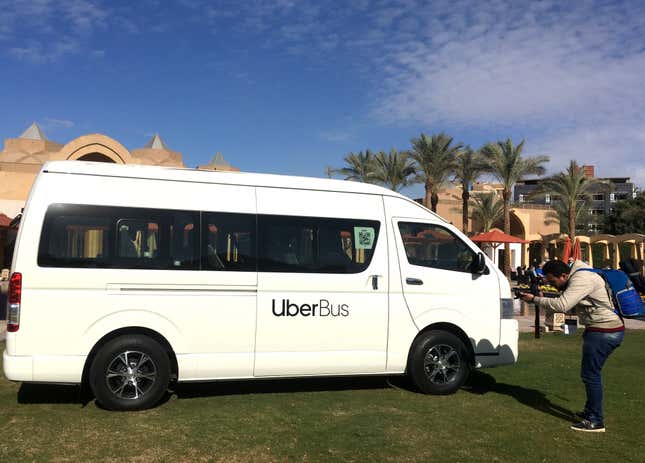 Egypt is a particularly important market for Uber: it's the ride hailing giant's largest African market and one of its fastest growing globally.
But Careem has had better luck in Morocco where it operates in three cities and claims to have over 300,000 users. In comparison, Uber suspended its service in Casablanca, the only Moroccan city it operated in, early last year claiming the city lacked "an environment conducive to new mobility solutions."
Uber will continue to face competition in sub Saharan Africa though as Bolt (formerly Taxify) continues to pursue an aggressive expansion strategy. Bolt, itself a billion-dollar unicorn, is also backed by Didi Chuxing, the ride-hailing giant in China known for backing Uber's rivals around the world.
Sign up to the Quartz Africa Weekly Brief here for news and analysis on African business, tech and innovation in your inbox