It's not often a rapper killed in senseless gun violence is celebrated by some of hip hop and Hollywood's biggest stars, fashion icons, local civil society, community leaders and ministers of foreign governments. But that's been the case in the 24 hours since news broke of the death of Grammy-nominated Eritrean-American rapper Nipsey Hussle at the age of 33.
Nipsey was killed Sunday afternoon in a shooting outside his Marathon clothing store in Los Angeles, California. Two other men were injured in an incident police believe is gang-related.
Born Ermias Davidson Asghedom, to an African-American mother and an Eritrean father, Nipsey was an activist, entrepreneur and philanthropist. He was murdered a day before he was scheduled to meet the Los Angeles Police Department and representatives of Jay-Z's entertainment agency, Roc Nation, to discuss combatting gang violence. The issue hit close to home as Nipsey was a former member of the Rollin 60s, a group he once described as "one of the biggest Crip gangs of our generation."
LA's Police Commissioner Steve Soboroff was especially saddened by the incident as Hussle had planned "to talk about ways he could help stop gang violence and help us help kids."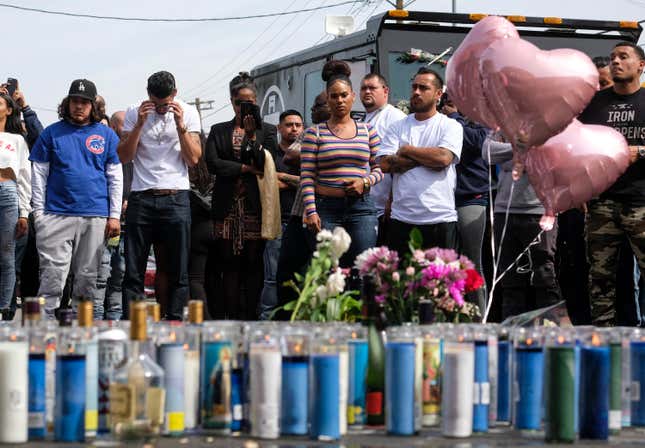 Nipsey was outspoken about his experience with street violence and described growing up in gang culture in his Crenshaw neighborhood of south Los Angeles as "living in a war zone." Those struggles informed his music but also his philanthropy, particularly in Crenshaw where he is revered as a hero and pillar of the community.
Last year, Nipsey launched his Too Big to Fail initiative in collaboration with Vector 90, a STEM center and co-working space for youth in the Crenshaw district that serves as a bridge between the inner cities and Silicon Valley. He opened the center a day before the release of his Grammy-nominated 16-song debut album, Victory Lap. The hip hop star envisioned expanding the Vector 90 project beyond LA to other cities across the U.S., including Baltimore, Washington D.C. and Atlanta, where kids from inner cities could explore alternative paths to success.
"In our culture, there's a narrative that says, 'Follow the athletes, follow the entertainers,'" he told the LA Times last March. "And that's cool but there should be something that says, 'Follow Elon Musk, follow [Mark] Zuckerberg.'"
In addition to the STEM initiative, Nipsey was involved in other community projects including the new Destination Crenshaw arts project, an open-air museum, and outdoor art and culture center celebrating Black Los Angeles. Hussle donated shoes to an elementary school in Crenshaw and funded the renovation of the school's playground and basketball courts. He also owned several businesses and often gave jobs to struggling and homeless residents.
Explaining the motivation for his work to Forbes last year, Hussle said he aspired to "redefine what the streets expect" as in his youth he had fallen victim to the "ignorance and self-destructiveness in the narrative that was pushed on us through music in our generation."
Eritrean writer Abraham Zere, writing on Nipsey's links to his roots for Africa is a Country, suggested the rapper would have been profoundly impacted by a three-month visit to Asmara when Nipsey was 18. "Beyond just a celebration of his African heritage, it would become part of his personal mythology. It appears as inspiration for his brand of capitalism."
Condolences are pouring in around the world. Eritrea's Minister of Information, Yemane Meskel, was "extremely saddened" by news of Hussle's untimely death. And LA's Mayor, Eric Garcetti, said the city "is hurt deeply each time a young life is lost to senseless gun violence."
In a photo of the rapper at a march against gun violence five years ago, city councilman Marqueece Harris-Dawson called Hussle "a tireless advocate for South LA."
The rapper had two children and was in a relationship with actress and model Lauren London.
Sign up to the Quartz Africa Weekly Brief here for news and analysis on African business, tech and innovation in your inbox