Mauritania is a country that is rarely on the global news agenda, and this seems to suit its leaders just fine. Now, the arrest of two bloggers is bringing unwanted attention to years of corruption and human rights abuses.
For seven years, a property scam went unchallenged affecting 7,000 Mauritanian families in a widespread Ponzi scheme. At the top of was Sheikj Rada al-Saidy, a holy man who claimed to work miracles. Al-Saidy used his religious sway to fraudulently flip properties to an extent that it affected Mauritania's national property market. So wide was the scheme that president Mohamed Ould Abdel Aziz allegedly benefitted from the scam that defrauded thousands of citizens.
Former journalist turned building contractor Abderrahmane Weddady began to use his blog to warn citizens against falling for it. His two years of investigations exposed a Dubai bank account which the president was allegedly using to hide his profits ahead of stepping down later this year. Activist Ould Jiddou used his Facebook page to bring attention to the property scam and how families were being affected, asking citizens to draw links between political power and the Ponzi scheme.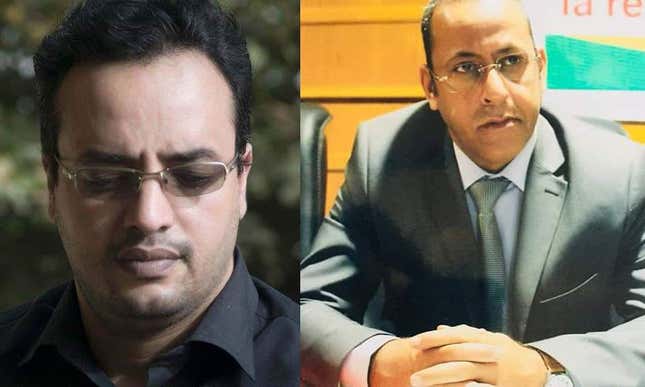 Police gathering evidence meant to question the bloggers for their information on the alleged fraud, but ended up confiscating their IDs and passports in early March, according to Human Rights Watch. On Mar. 22, police again summoned Weddady and Jiddou to their headquarters, but this time they arrested them.
Prosecutors said the stories were false and charged Weddady and Jidou for knowingly spreading false information, a charge used to regularly detain activists and political dissidents, Human Rights Watch said. After the arrest, police seized both men's equipment and raided their homes.
"They were not told of their charges," Weddady's brother Nasser told the Middle East Eye. "They were just locked up. This was clearly punitive and politically motivated."
They now face up to five years in jail on charges that also include defamation. Held in Nouakchott's central prison, the Human Rights Foundation warned that Weddady and Jidou were initially denied access to their lawyers, while Weddady may not be getting the care he needs as a pre-diabetic.
"The fact that the president has ordered Weddady to be extrajudicially arrested shows you how afraid he is of the people discovering that he is benefitting from their misfortune," said the foundation's legal officer, Javier El-Hage.
This incident has echoes of the widely condemned murder of Saudi Arabian journalist Jamal Khashoggi thanks to Mauritania's positioning as a counter-terrorism ally of the United States. As a buffer against terror groups operating in the Sahel, Mauritania's own human rights record is overlooked by countries focused on fighting international terror like France and the United States. Rights groups have urged the west to denounce the arrests.
Weddady and Jidou are not the only Mauritanians jailed for exposing corruption online. Activist Abdallahi Yali has been in jail since 2017 for sending WhatsApp messages on urging the dark-skinned Haratine people to resist discrimination.
Blogger Mohamed Cheikh Ould Mkhaitir served two years in prison for writing about how Islam was manipulated to justify oppression. The growing spotlight around Weddady and Jidou will shine a light on Mauritania's abuses.
Sign up to the Quartz Africa Weekly Brief here for news and analysis on African business, tech and innovation in your inbox