At the New Tafo Government Hospital in Ghana's Eastern Region, community health nurse Gladys Dede Tetteh has run out of yellow fever vaccines. There is a long line of anxious mothers fanning themselves and their babies as they wait on benches.
An order has been placed for more vaccines which would usually take two hours on a good day (sometimes more) for it to be delivered by road from the central medical stores.
But 21 minutes later, a drone did the job—dropping off a parachuted box containing vaccines from a height of about 80 meters to a small lawn quadrangle inside the hospital as a group of journalists watch on. The drone doesn't stop as it makes a delivery and returns to base. A junior nurse picked the box up and the vaccination for newborns is back on. Tafo hospital is the first in Ghana signed up to the government's new medical drone delivery program which hopes to use unmanned aerial vehicles to deliver medical products to hard to reach communities in a timely manner.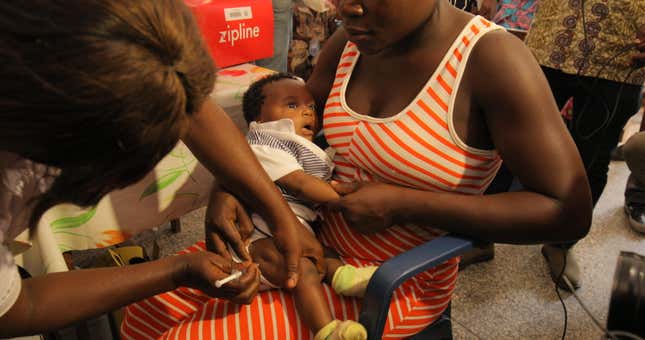 The Ghana Health Service is working with Zipline, the drone company best known for starting blood delivery services in Rwanda. Ghana's health policymakers hope faster drop-offs will improve its health outcomes including reducing its maternal and infant mortality rates. According to the World Health Organization, "severe bleeding during delivery or after childbirth is the commonest cause of maternal mortality and contributes to around 34% of maternal deaths in Africa." The timely access to safe blood could save many lives.
The medical drone program was officially launched on Wednesday Apr. 24 by Ghana's vice president Mahamudu Bawumia, who first made the announcement a year ago. The launch at Zipline's Omenako center in Ghana (70 kilometers north of the capital, Accra) is the first of four centers it hopes to complete by the end of 2019.
The drones will be able to travel to 500 health facilities within an 80-kilometer-range from the Omenako center which is stocked with emergency medicines, vaccines, blood and blood products. The delivery program is also hoped will help reduce the incidence of wastage of medical products, a result of overstocking at hospitals.
The company is targeting the "last mile delivery" challenge which many logistics operators face in African cities and rural area where road networks are either underdeveloped or poorly maintained. Zipline is describing the Ghana operation as the world's largest drone delivery service.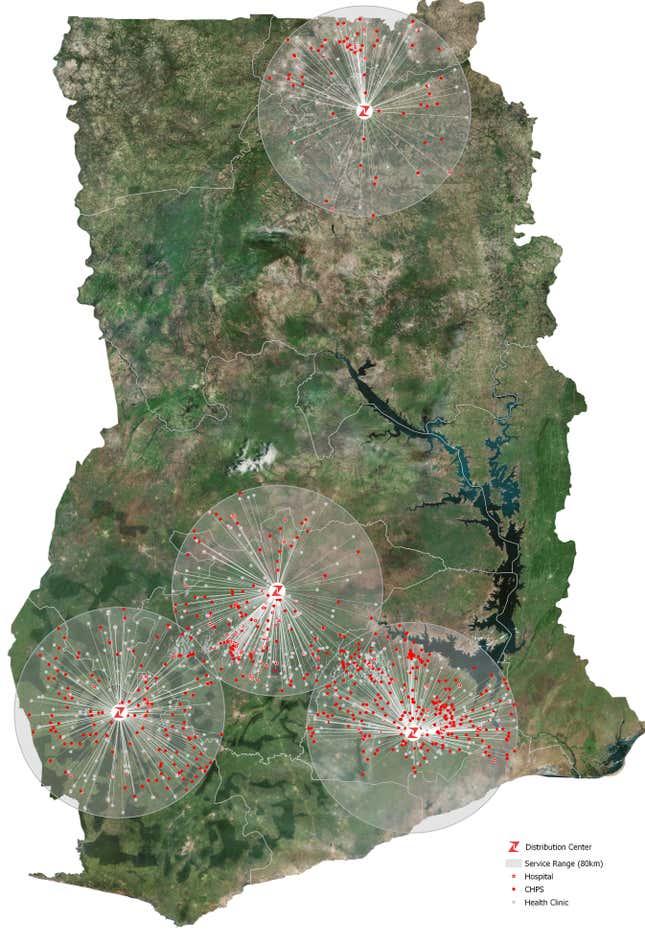 Ghana will become the base for training future Zipline flight operators as it hopes to expand to more countries in the coming years. There have been expressions of interest in a similar service from officials in Senegal and some states in Nigeria.
Headquartered in San Francisco, Zipline, a for-profit company, was founded in 2014 and started operations in Rwanda in 2016 delivering blood and blood products during emergencies. It began delivering more health products including routine vaccines this year.
Zipline claims it would be able to cover 2,000 health facilities that serve 12 million Ghanaians (of a population of just under 30 million)—from small community clinics and vaccination centers to larger general hospitals like Tafo – when all its four local centers become operational.
The company has been contracted by the government of Ghana to make 600 deliveries a day (150 deliveries from each center) for four years and they will be paid per successful delivery. It would cost Ghana $12.5 million during the period.
Critics have argued the government should have rather spent the money on more important and simpler things the health sector really needs such as the critical shortage of hospital beds, gloves, consistent supply of water and the improvement of hospital buildings.
And yet the challenge for Ghana and indeed many other African governments is the cost and potential speed of using drone delivery to supplement or aid health services is significantly more effective in the short to medium term when compared with the required scale of investment and time for both logistics and healthcare infrastructure.
This is why for nurses like Gladys Tetteh, the use of drones are very much a case of what's not to like?  "It makes us work faster and the mothers will not stay too long here trying to vaccinate their children."
Sign up to the Quartz Africa Weekly Brief here for news and analysis on African business, tech and innovation in your inbox