When it comes to Airbnb occupancy rates in Africa, a volcanic island that sprang out of the ocean three million years ago leads the way.
The remote Indian Ocean island of Réunion has all the top 10 locations for average occupancy in the accommodation-sharing site, according to data from short-term rental analytics firm AirDNA. These listings include entire homes, private or shared rooms occupied between March 2018 and February 2019.
During this timeframe, L'Ermitage Les Bains area was listed as having one of the highest average Airbnb revenues in the whole of Africa, preceded only by Moses Kotane and Bela Bela towns in South Africa.
Réunion island, located between Mauritius and Madagascar off the coast of East Africa, is not even a sovereign nation as such but one of four overseas departments of France. With a population under one million, the island became a French colony in the 17th century with slaves brought in from East Africa to work on coffee plantations.
Following the abolition of slavery in the mid 19th century, indentured workers were also brought in from India and Asia to work on the sugar plantations. In 1946, the territory became a self-governing department of France and became a full-on French region in 1974.
French president Emmanuel Macron is currently the head of state, and Paris has the headquarters of its military forces in the Indian Ocean based out of the island.
Besides sugar, Réunion relies on tourism to boost its over $22 billion economy. The island markets itself as a melting pot that showcases the intersection of European, African, and Asian cultures. Tourists can also visit marine reserves aimed at repopulating coral reefs and protecting up to 3,500 species.
In 2010, UNESCO included the island's volcanic peaks and ramparts in its list of natural World Heritage Sites. The Piton de la Fournaise, one of the most active volcanoes on the planet, attracts tourists particularly as it gains ground on the ocean during certain lava flows. In total, more than 550,000 tourists arrived on the island in 2017, according to the World Tourism Organization.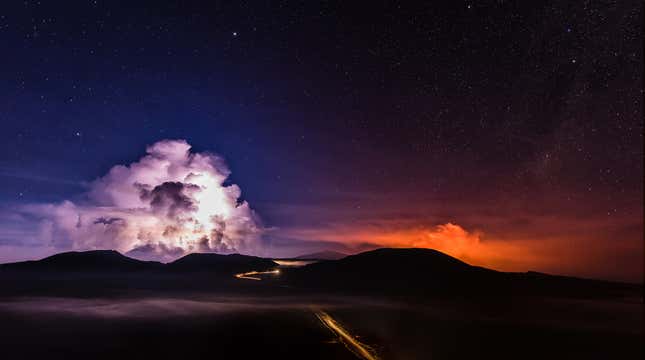 As per the Airbnb data, most of the short-term renters are drawn to the L'Ermitage commune located west of the island. Occupancy numbers were also high in Saint-Leu, which has hosted major surfing and paragliding competitions. Listings at the L'Etang-Sale locale, which has a volcanic black sand beach, also stood at 57% between March 2018 and February 2019.
The Saint-Andre commune in the northeastern part of the department also has the highest growth in supply (161%) and the highest growth in demand (133%) when it comes to Airbnb rentals.
Even with its lead in average occupancy, Réunion still can't beat markets like South Africa which has both the highest active listings and top Airbnb revenues in Africa.
Sign up to the Quartz Africa Weekly Brief here for news and analysis on African business, tech and innovation in your inbox