In 1994, Frederick Brownell delivered on what may be the hardest and most consequential assignment any designer could receive: Design a flag to unite a nation—and do it in a week.
"It scared the living daylights out of me," he said to the BBC in 2014. Brownell, who passed away at age 79 last Friday (May 10), was the head of the South Africa Department of Arts and Culture's Bureau of Heraldry during a time when the country was in the midst of abolishing apartheid. He was tasked with the assignment after a drawn-out design contest that yielded 7,000 entries went nowhere. With barely two months before the inauguration of its newly elected president Nelson Mandela, South Africa needed a new unifying graphic symbol—fast.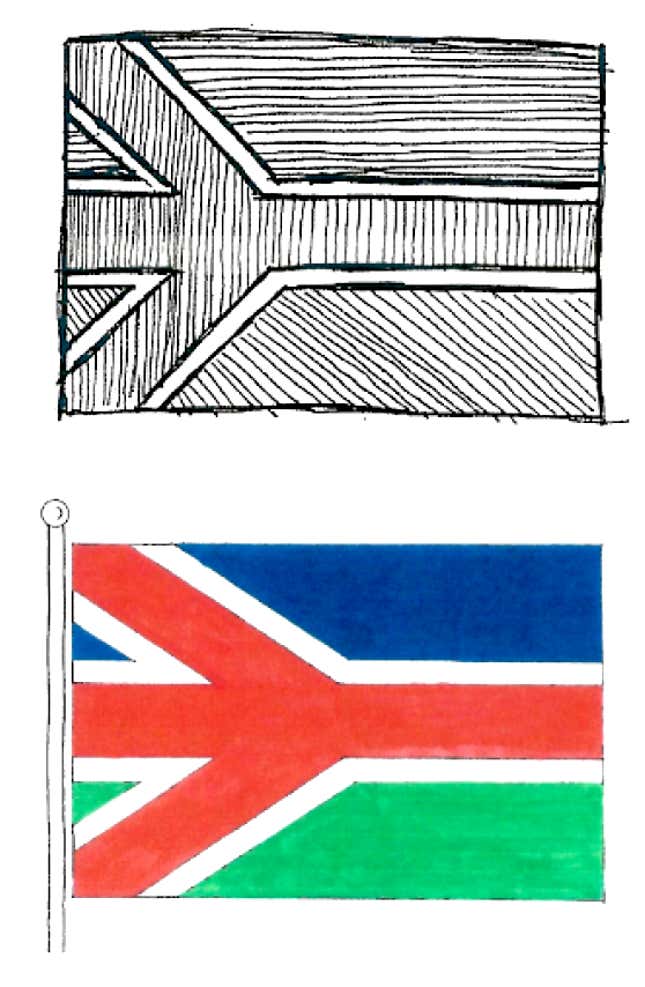 As Brownell outlines in his 2015 PhD dissertation, the the six-color, Y-shaped design first came to him while attending the Féderation Internationale de Associations Vexillologiques (FIAV) conference in Zurich in 1993. Like many brilliant back-of-the-napkin ideas, Brownell had actually been stewing over a new flag design for several years. He sensed that South Africa may need a unifying symbol after Mandela was released from prison in 1990.
Writing in the third person, Brownell describes the eureka moment in his dissertation:
With the Congress providing an atmosphere conducive to flag-related thought, he asked himself. 'Aren't we looking for something depicting convergence and unification?' At that point, he turned over the lecture programme lying in front of him and sketched on the reverse, a design which was then in his mind's eye. In seeking the solution to a practical problem, the human brain draws on, evaluates and consolidates past experience. There was not a blinding flash of inspiration but rather a consolidation of design ideas which was already in his mind. Unlike previous sketches which had been prepared since 1990 and all of which had been consigned to the wastepaper basket, the more he looked at the design, the more he felt that it might perhaps offer the basis for a possible solution.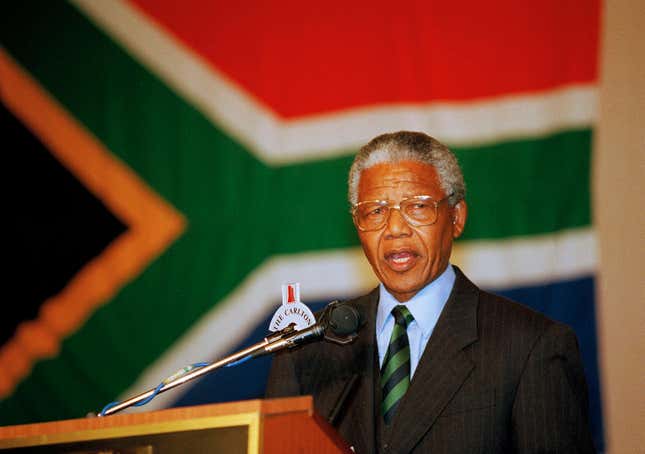 He refined the color scheme, using black, green and yellow from the flag of the African National Congress and white, blue and chili red to evoke the flags of countries who once colonized South Africa, the Netherlands and the UK. When it was unveiled in 1994, South Africa was had the most colorful pennant in the world. (South Sudan, which gained independence in 2011, also has six colors in its flag.)
Brownell had a leg up over other aspiring flag designers because he had mastered the practical aspects of designing a good pennant. He explained some of these principles in a 2014 interview with Brands South Africa, on the occasion of the flag's 20th anniversary:
You must have light colors in between dark ones. Otherwise, when your flag is printed in black-and-white, or viewed from afar, it looks like a blur.
You must have a design that people can more-or-less draw. They needn't get it exact (or the Union Jack would have been a terrible flop) but if they can't get the essence there's a problem. The more twirls and curves you give them the more trouble you're asking for.

Getting ambitious, with birds or animals or artworks, is a no-go. Aside from the drawing problem you're inviting cynics (well supplied in any country at any time) to turn your eagle to a cow or your lion to a tortoise. Whatever "political" colors the nation may have, you'd better be sure to show either none of them or all of them.

You can't rely on the wind blowing. The fatal temptation of flag design is to focus on the full-out flag. Much of the time it will in fact hang limp from its post. You want it to be recognizable then too.

Light blue backgrounds get lost against the sky, white backgrounds get scruffy fast, and any hint of subtlety turns to mystery at the top of a flagpole.
Working on the flag at home, Brownell's youngest daughter Claire, a school teacher, offered a useful suggestion. With great prescience, she suggested truncating the bar so the emblem wasn't confused with the iconic symbol of the British Campaign for Nuclear Disarmament. "Claire's argument was that there were people who would 'stand the flag design on its head and see the 'ban the bomb peace sign," Brownell notes in his dissertation.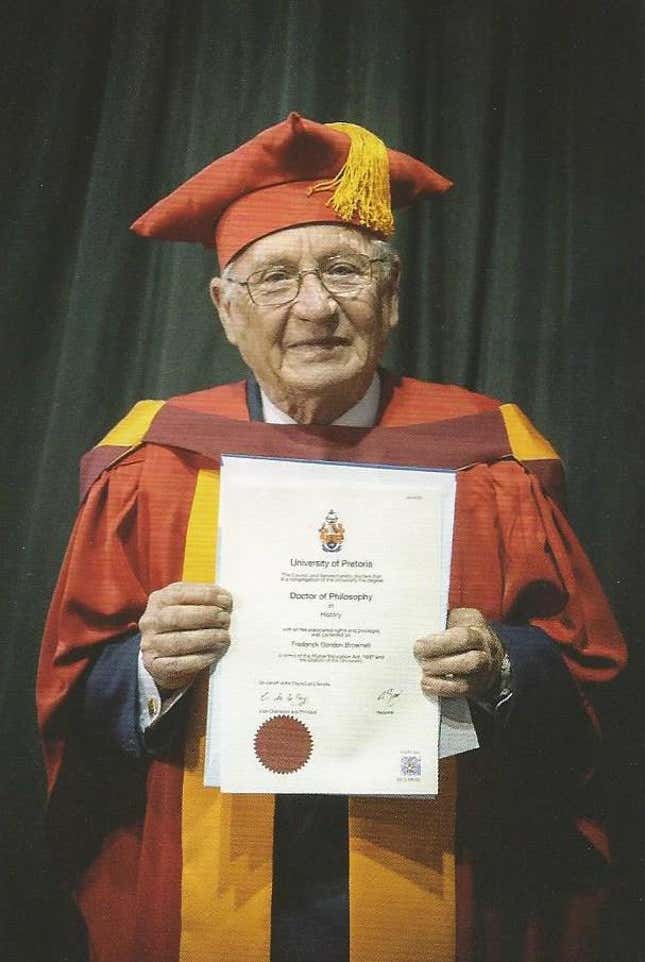 As South Africa's State Herald for two decades, Brownell designed and oversaw the development of numerous coats of arms, badges and flags for states across South Africa, says Bruce Berry secretary of the Southern African Vexillological Association. Brownell also helped shape Namibia's flag and coat of arms in 1990 and advised on the flag of Lesotho. "But he is perhaps best known for having designed the current national flag of South Africa which is now widely accepted as having played a significant role in the reconciliation process after 1994 and it now widely accepted as the country's premier national symbol," Berry explains in an email to Quartz.
"The new South Africa flag that Dr. Fred Brownell designed was and is still the most cohesive symbol in the country," echoes Karen L Harris, chair of the University of Pretoria's Historical and Heritage Studies department and Brownell's former professor. "He was an absolute pleasure to work with. I was honoured to have him as a student," says Harris to Quartz. "His thesis was awarded an international award and he was also honoured by former President Mandela," she says referring to the Vexillon award from FIAV and the Order for Meritorious Service in 1999.
In the public notice about Brownell's passing, Harris writes: "Considering the tensions in South Africa before, and during the negotiation process, which led to our new democratic dispensation, the level of acceptance of this flag, across the broad spectrum of society, has been truly remarkable. In contrast to the previous national flag which was adopted in 1928, which was essentially a symbol of state, our present national flag has truly been embraced as a symbol of the people…His legacy will live on in the flying of our flag."
Sign up to the Quartz Africa Weekly Brief here for news and analysis on African business, tech and innovation in your inbox