The South African government is currently evaluating proposals from businesses and organizations to develop ventilators to help the country—and others in the region—cope with the expected deluge of severe Covid-19 cases.
The National Ventilator Project, driven by the country's department of Trade and Industry, aims to locally produce a minimum of 10,000 ventilators by the end of June, according to a document seen by Quartz Africa. South Africa has so far had 1,749 confirmed cases of Covid-19 disease and 13 deaths.
Countries around the world are struggling with a shortage of ventilators, as Covid-19 attacks people's lungs and in severe cases they require assisted breathing. It's been estimated that New York City, alone, needs 30,000 ventilators. However, country lockdowns and closed borders have disrupted global supply chains, making it difficult to get ventilators and the parts for countries to make them in house.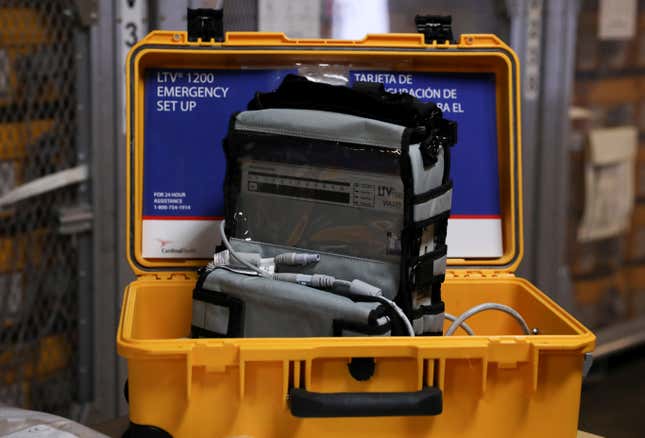 This will hit developing countries, including those in Africa, particularly hard because few have the capacity or expertise to manufacture them locally. Even South Africa, Africa's most advanced economy, has traditionally only imported its ventilators.
Currently, the country has about 4,000 ventilators in its private hospitals and 2,000 in public ones. The National Ventilator Project plans to produce 1,500 ventilators by the end of May, and 10,000 by the end of June.
South Africa has had one of the speediest and most forceful responses to the Covid-19 pandemic; the respiratory disease has caused more than 82,000 deaths worldwide. The country—with a population of more than 55-million people—has the highest rate of HIV infection in the world with 7.7 million people, as well as a tuberculosis pandemic. Authorities fear its healthcare system will not be able to cope with large numbers of people requiring hospitalization and access to medical ventilators.
The call for proposals, seen by Quartz Africa, specifies the requirements for a non-invasive ventilation system. The system "supplies a pressurized mixture of air and oxygen to the patient through a mask or hood", and because the gases in the mask or hood are pressurized, it does not need electricity to pump them into the patients' lungs.
Importantly, the reference document states that all parts and materials to manufacture the systems must be easily available commercially or can be manufactured locally in South Africa.
The calls for proposals closed on April 6, and the project plans to begin manufacturing the systems by the end of April. The successful applicants must be able to scale up their manufacturing to 50,000 units or more, if it is required—something that is likely if other countries in the region find that their ventilator stockpile is unable to meet the need.
Sign up to the Quartz Africa Weekly Brief here for news and analysis on African business, tech and innovation in your inbox