One of the biggest trends in African tech last year was the spike in inflow of investment from China.
For startups on the continent, increased interest from China offered an even more diverse pool to source capital from after years of Silicon Valley and European venture capital firms being the primary source of investment.
As it turns out, that pool is getting even wider with emerging interest from Japan led by a mix of early stage and corporate VC investors mostly testing the waters.
But Kepple Africa Ventures, a prolific seed stage VC firm, has gone a step further and is leading a push to provide a pathway for larger Japanese corporations to invest on the continent.
In less than two years of operating, Kepple has backed 53 startups across eight African countries through a $12 million fund pooled by limited partners made up entirely of high net-worth Japanese individuals. While Kepple offers seed stage funding, its long-term plan is to "navigate Japanese companies and investors" to expand their sights to Africa, says Satoshi Shinada, general partner at Kepple.
"We invest in seed stage startups and help Japanese companies come in after we invest. These companies can access our diverse portfolio companies…and avoid the early risk and issues around due diligence," he tells Quartz Africa. Shinada launched the three-person firm in late 2018 having spent the early 2010s working with a Japanese firm in Lagos, and witnessing the promise of the local tech ecosystem. Despite being made of only three partners, Shinada says Kepple's due diligence procedures ensure a quick turnaround on investment decisions as the firm averages a deal nearly every two weeks.
Kepple's bid to pique the interest of Japanese investors translates into benefits for its portfolio companies too as it arranges investor roadshows of sorts to Japan and facilitates discussions with potential Japanese investors for follow-on rounds. Part of its pitch to local startups, Shinada says, is the potential for strategic partnerships that Japanese companies and investors can offer given the country's well-established technology sector. There is also a unique need on the other end too: with the local population ageing and shrinking, Japanese companies are keen to seek growth opportunities elsewhere.
There's already growing evidence of interest from blue-chip Japanese firms. Last August, auto giant Toyota set up Mobility 54, a venture capital unit, specifically to invest in African mobility solutions and startups. The unit's first investment came in January when it backed Sendy, a Kenyan logistics startup, with $7.6 million as part of a $20 million Series B round.
Last year, manufacturing giant Yamaha also participated in the $7 million funding round of Nigerian motorcycle transit startup MAX.ng. And, at the start of this year, Tokyo-based VC firm Samurai Incubate announced a $18.3 million fund focused on start-ups in Kenya, South Africa, and Nigeria.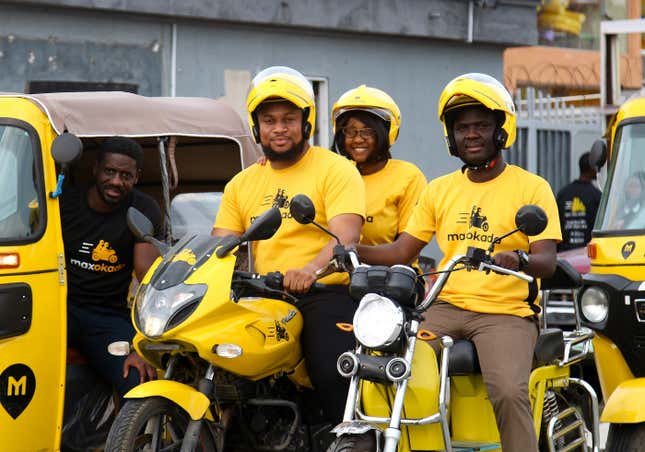 The increased activity from Japanese investors comes at the prospect of competition with growing Chinese interest. In significant moves last year, OPay and PalmPay (China-backed fintech apps operating mainly in Nigeria) raised around $210 million within a period of five months. The roll call of Chinese investors across the investment rounds included Shenzhen-based phone maker Transsion, internet giant NetEase, group buying website Meituan-Dianping as well as Sequoia China, IDG Capital and Source Code Capital.
But Shinada insists Japanese companies can compete due to their entirely different focus. "Chinese companies are trying to expand their innovations to Africa but Japanese companies are looking for innovation coming out of Africa," he tells Quartz Africa. "That's the difference."
Sign up to the Quartz Africa Weekly Brief here for news and analysis on African business, tech and innovation in your inbox