The relationship between China and Africa has grown substantially in recent years, to include not only deeper financial ties but also geopolitical ones. China sees Africa as an instrumental ally that will support its ambition to dominate the global stage and shift the focus of world leadership away from the US. Africa sees China as an alternative financier and a path to economic development without the cloud of colonialism—although this perspective is changing and criticism of China from within Africa is becoming more common.
This week's presentation explores the symbiotic relationship between the two regions, including its effects on business, economics, technology, and culture.
Debt is among the most significant aspects of China's engagement strategy with African countries. In southern Africa, for example, nearly a third of infrastructure projects are funded by China.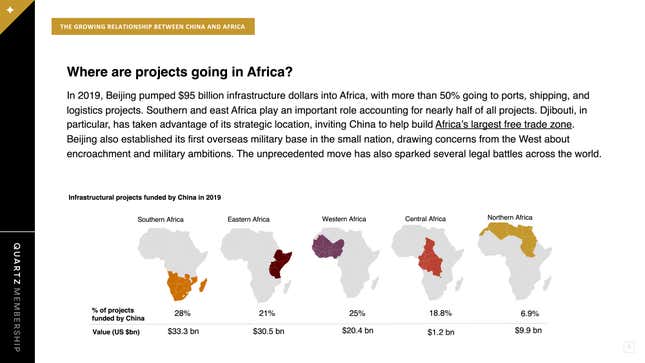 But debt is only part of the story. The flow of people and culture have also increased dramatically. African countries sends more English-speaking students to study in China than to the United States and United Kingdom combined, and China now has more cultural institutes in Africa than any other country except for France.
Technology is another area of growing engagement: Chinese tech firms are finding success in African markets and Chinese venture capitalists are backing African startups. Technology for Ethiopia's growing startup scene is largely supported by the coastal city of Shenzhen, China.
Covid-19 has deepened the relationship in some ways. Alibaba founder, Jack Ma, donated medical supplies to African countries furthering China's soft-power strategy toward the continent. But allegations of discrimination and racism against Africans living in China has sparked criticism and censure. Meanwhile, the toll coronavirus has taken on the global economy is putting pressure on many governments and could be a problem for countries with high levels of debt.
Keep scrolling to see all of the slides. Or, if you'd prefer, you can view the PDF version or download the PowerPoint file, which includes our sources and notes. This is one of an ongoing series of member-exclusive presentations, which you can read, reformat, and use as you wish.
Please share any feedback about what would make these presentations more useful—or topics you'd like to see us cover—by emailing us at members@qz.com. These presentations are an exclusive benefit for Quartz members. We'd love it if you'd encourage any friends or colleagues who express interest to become a member so they can access them too.