Burkina Faso's authorities last week exhumed the remains of iconic former president Thomas Sankara–one of Africa's most hopeful and tragic figures–as part of a probe into his assassination.
I was no more than a young boy in Dakar, Senegal when I heard with grief and disbelief the stunning and crushing news of the death in a coup of Sankara in 1987. Nelson Mandela was in jail, Patrice Lumumba was long dead, and for a kid in search of African heroes, the incorruptible and young soldier-statesman was a star, a guitar-playing rebel in fatigues who troubled the consciences of the powerful elites in his country and across the continent.
Immediately after the coup, very little information was available about the circumstances of Sankara's death, especially in those pre-Internet days. Physically eliminating Sankara was not enough: the new regime launched a smear campaign to besmirch his character.
It was the ultimate betrayal: the coup was led by Sankara's trusted deputy of many years, Blaise Compaoré, then minister of defense. Both had led a cadre of radical junior military officers who overthrew, with popular support, a repressive regime of more conservative generals four years earlier. The Compaoré government issued Sankara's family a death certificate describing his passing as a "natural death."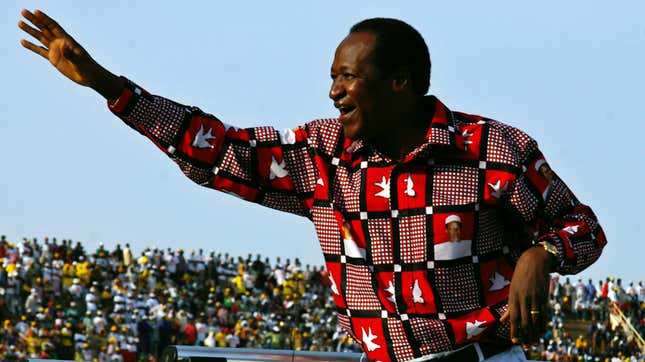 Several weeks passed before the pan-African magazine Jeune Afrique published the first details of the coup, based on the late journalist Sennen Andriamirado's investigation. It had been a bloodbath, with soldiers loyal to Compaoré killing Sankara and 12 of his aides, and dumping their bodies in shallow graves in Dagnoën cemetery outside the capital Ouagadougou.
A transformational leader
Sankara's visionary leadership turned his country from a sleepy West African nation with the colonial designation of Upper Volta to a dynamo of progress under the proud name of Burkina Faso ("Land of the Honorable People"). He led one of the most ambitious programs of sweeping reforms ever seen in Africa. It sought to fundamentally reverse the structural social inequities inherited from the French colonial order.
These inequities left a majority of marginalized, mostly rural, poor and women, at the bottom of society, often under the exploitation of a minority of bureaucrats, businessmen, military officers and traditional chiefs. Sankara focused the state's limited resources on the marginalized majority in the countryside. When most African countries depended on imported food and external assistance for development, Sankara championed local production and the consumption of locally-made goods. He firmly believed that it was possible for the Burkinabè, with hard work and collective social mobilization, to solve their problems: chiefly scarce food and drinking water.
In Sankara's Burkina, no one was above farm work, or graveling roads–not even the president, government ministers or army officers. Intellectual and civic education were systematically integrated with military training and soldiers were required to work in local community development projects.
Demanding, idealist, rigorous, an organizer
According to Ernest Harsch, author of a recent biography of Sankara, Burkinabe built for the first time scores of schools, health centers, water reservoirs, and nearly 100 km of rail, with little or no external assistance. Total cereal production rose by 75% between 1983 and 1986. In 1984, his government, defying skepticism from the donor agencies, organized the vaccination of 2 million children in a little over two weeks. He also championed environmental conservation with tree-planting campaigns and greening projects.
His informal style of leadership was in a league of its own. Harsch quotes a former aide describing Sankara as "an idealist, demanding, rigorous, an organizer." This discipline and seriousness started with himself. He had been first among top leadership to voluntary declare his modest assets and hand over to the treasury cash and gifts received during trips. Harsch quotes family members as saying that Sankara told them not to expect any benefits from him because he is president. In fact, by the time of his death, his kids attended the same public school, his wife was reporting to the same civil servant job, and his parents lived in the same house.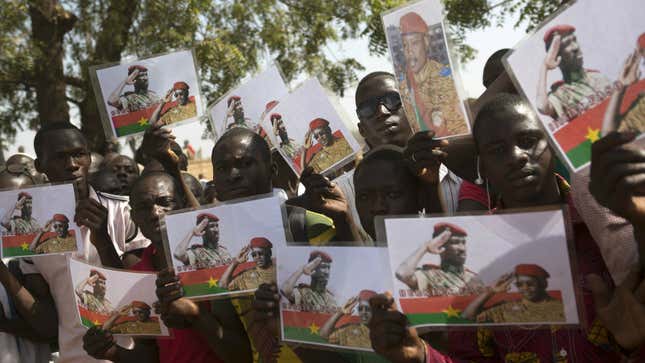 Sankara disdained formal pomp and banned any cult of his personality. He could be seen casually walking the streets, jogging or conspicuously slipping into the crowd at a public event. He was a rousing orator who spoke with uncommon candor and clarity and did not hesitate to publicly admit mistakes, chastise comrades or express moral objections to heads of powerful nations, even if it imperiled him. For example, he famously criticized French president François Mitterand during a state dinner for hosting the leader of Apartheid South Africa.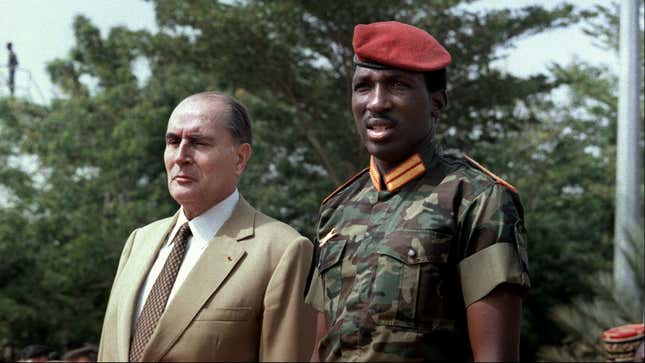 The brash young leader was not without flaw. Some of his policies resulted in costly missteps, such as firing politically disloyal civil servants and striking teachers, heavy-handed tactics to discipline lethargic bureaucrats, or arming partisan civilian militia. He did show an uncommon ability to publicly admit failure and take corrective measures, when persuaded of his errors. However, he made enemies abroad and within for challenging systems of power and refusing to compromise on ideals for expedient pragmatism.
In spite of any such flaws, Sankara's legacy has lived on–perhaps because, outside of sports and entertainment, Africa lacks modern heroes among its leaders.