A fire at a truck terminal in Ghana's capital, Accra, caused an explosion after spreading to a nearby gas station where local residents were seeking shelter from torrential rains that have hit the city. More than 90 people were killed in the blast, Reuters is reporting.
"It was an explosive fire and so the people sheltering at the filling station did not have an opportunity to escape," fire brigade spokesman Prince Billy Anaglate told Reuters.
Firefighters struggled to contain the fire, which enveloped several nearby buildings, due to the heavy flooding in the city. But the search for more people that may have been caught in the blast continues and the death toll is expected to rise, according to the BBC.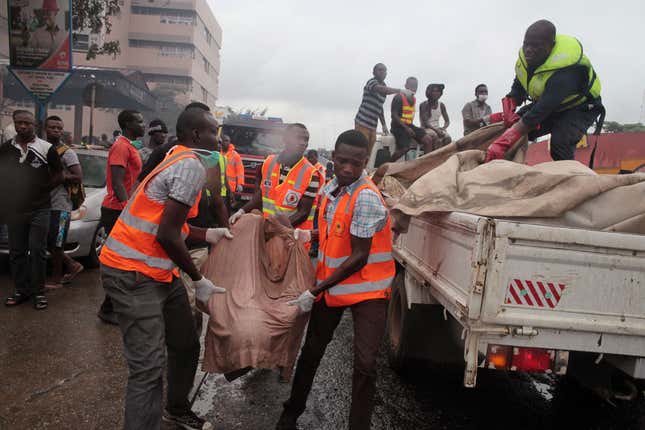 The country's education minister has ordered the closing of schools as the city responds to the tragedy and to the flooding currently wreaking chaos in Accra.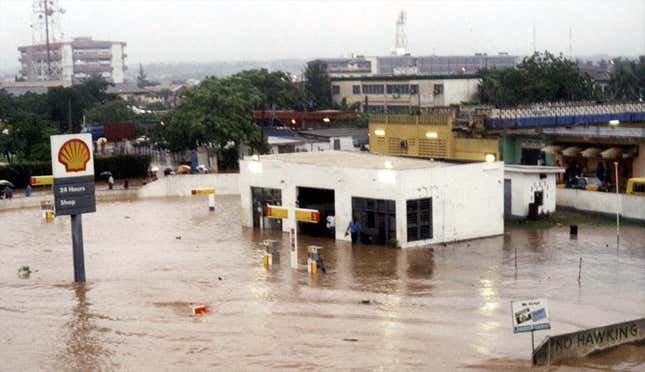 Accra is a West African hub for the banking sector and for multinationals investing in the region. The city's infrastructure has struggled to respond to population growth, which has doubled since 1990 to 4 million people. "Year in, year out, this continues to happen," president John Mahama was quoted as saying (paywall) as he toured the affected area. "Until we attack it scientifically and strategically we will continue to have this problem."