A scathing new report from Amnesty International which claims to have unearthed a culture of human rights abuses by the Nigerian Army against Boko Haram suspects and civilians alike will put newly sworn-in president Muhammadu Buhari under intense scrutiny. Specifically, it will severely test his loyalty to the armed forces, where he spent most of his career, just as the Islamist militants resume their terror attacks.
Investigations and interviews with over four hundred victims and eyewitnesses since 2011 by the human rights organization have revealed the Nigerian army may have committed war crimes in its operations in northern Nigeria.
Amnesty states 7,000 young men and boys as young as nine, died in military detention through starvation, suffocation and  torture, and 1,200 more people were extrajudicially killed. Hundreds of detainees were packed in small cells, where diseases like Cholera were rife, with many dying from starvation and dehydration. In 2013, over 4,700 bodies were taken to a mortuary from a military detention center. A statement backed up by eyewitness evidence contained in the 133-page document.
The report comes at a time when recently inaugurated president Muhammadu Buhari is under enormous pressure from an electorate with high expectations to deliver on his promises to end the insurgency which has claimed over 20,000 lives in the northeast of Nigeria and displaced as many as a million people.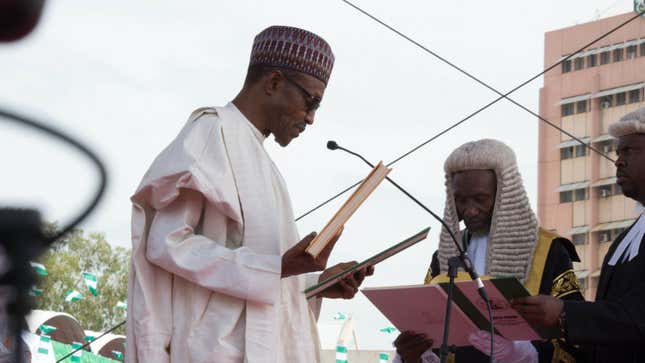 As commander in chief of the Nigerian army–with a long history as a former military chief–the Amnesty allegations have intensified questions on whether Buhari will act to punish working commanders such as the chief of army staff and chief of defense who, according to the report,  "were regularly informed of operations conducted in northeast Nigeria." An allegation that the ministry of defence denied in a widely circulated press release titled " Amnesty International report intended to blackmail the Nigerian military," published in the Nigerian dailies.
Buhari, in his inauguration speech last Friday, promised to take a strong stance against abuses in the army. In response to the report he "assured that his administration will study the document and act appropriately."
Boko Haram is back
Since May 29, when Buhari was inaugurated as president, Boko Haram have carried out almost daily attacks in northeast Nigeria, mainly on the city of Maiduguri, Borno state, the birthplace of the Islamist group dashing any hopes that there would be an easing of tension with a new government in place. It's particularly significant because Buhari tipped his hand in his inauguration speech saying he was moving the anti-insurgency command center to Maiduguri, from the capital city Abuja.
In the weeks leading  up to Buhari taking the reins, the Council of Foreign Relations'  National Security Tracker , a data visualization mapping Boko Haram killings in Nigeria, recorded a decline in deaths mirroring the general hopes of Nigerians that the insurgents were slowing down. But that has changed.
More than 50 people have been killed in Maiduguri since last Friday, reports the Associated Press. It began  with a suicide bombing killing 26 people at a mosque, followed by an overnight rocket propelled grenade attack in a residential area. On Tuesday  suicide bombing at a cattle abattoir and a blast at a military checkpoint on Wednesday.
"For four days now we have experienced bomb attacks" said Koli, 28, a security man and resident of Maidugri who was reluctant to give his full name, adding "people are afraid to go to crowded areas such as markets and bus stops, but people are going about their business."
The the mood is tense in the city, people like Koli have no choice but to carry on with their normal routines. " In this town if you don't work you don't eat," he said.
And with a new bomb blast at a local night market on Thursday evening in Yola, Adamawa State, also in the northeast, it now appears Boko Haram is building back up to full scale regular attacks. The blast killed 33 people and injured another 21 according to the local Red Cross.
The bomb was believed to have gone off at 19.28 local time and appears to be a suicide attack based on evidence of one body that has been exploded to pieces.