Ethiopia, the biggest and most populous country in the Horn of Africa, was once the origin country of the most refugees from the continent. In 1990, there were  over 1.34 million Ethiopian refugees–residing mainly in the rest of the continent, the United States, the Middle East and Europe. The 17-year rule of armed forces by "The Derg" and the 1983 famine–which lasted 2 years and led to the death of more than 400 000 Ethiopians–were the main causes of Ethiopia's then vast refugee community. That's all changed in the last 20 years.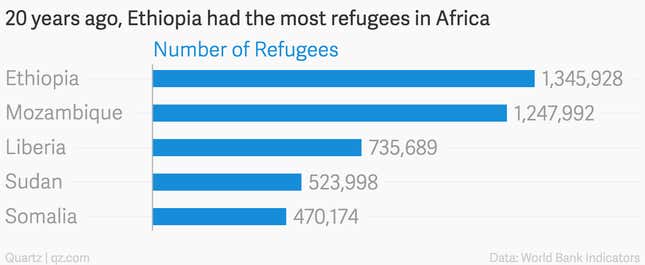 Ethiopia's remarkable economic and social transformation has been a clarion call for many returnees over the past twenty years.
The chart below shows how the number of Ethiopian refugees decreased plunged from 1990 to 1995 – 4 years after " The Derg" –lost power. Additionally, a record number of Ethiopian refugees, asylum seekers and expats continue to return back to the country.
As one of the continent's fastest growing economies, with economic growth projected at 11% for this year alone, Ethiopia has turned the tide, from being a country that was once characterized by famine and civil war.
"In Ethiopia, life expectancy has increased by 50%, and the country has managed to meet most of the 2014 Millennium Development earlier than expected. To give you an idea, child morality was reduced by 67%, four years ahead of the MDGs deadline," says Dr Ayo Ajayi, the new Director of the Bill and Melinda Gates Foundation's Africa team.
It is also the civil war in neighboring South Sudan that has played a role in Ethiopia becoming the continent's highest refugee-hosting country, surpassing Kenya.

With the internecine war and ongoing displacement of people, the UNHCR expects Ethiopia to host more than 340 000 refugees from South Sudan by the end of this year.