You could say the global economy was built on instant noodles.
From East Asian cram schools to dorm rooms across America, the global ubiquity of this meal in a packet speaks to its role as a staple in the diet of young people worldwide. Even in Africa, instant noodles have crept into youth culture. But like so much processed food on the continent, they are primarily imported.
Outside traditional open-air markets, food in Africa is largely a spin of the non-African globe: Marie biscuits from Dubai, butter from Ireland, rice from Thailand. This reality is reflected in an annual food import bill that is almost double that of the sector's export earnings ($81 billion vs. $45 billion, according to MD Ramesh of Olam International).
The upshot being that the continent is spending some $36 billion a year on products from wheat to cooking oil, tomatoes to canned soup. Putting aside the question of why Africa imports tomatoes, the business opportunity represented by agriculture generally and processed foods in particular screams for recognition.
Monica Musonda, CEO of Zambia's Java Foods heard the call. Quitting her job as a lawyer, Musonda started what she says is a rare thing: an African-owned agribusiness company. Java's first product? Instant noodles. "I wanted to develop a product for the youth market that was affordable and nutritious," says Musonda, who was a panelist on the "Food Challenge" session at the World Economic Forum Africa Summit in Cape Town last week.
Java won't be the first to produce noodles in Africa, but it will be one of the first African-born brands. Indonesian-brand Indomie landed in Nigeria in 1996, and by 2013 had helped build a non-existent instant noodle sector into a $600 million business—with 70% market share.
Of course there are risks to manufacturing processed foods as Nestle India might tell you. Late on June 4, the  company announced a nationwide recall of its popular instant noodle brand, Maggi. For weeks now, the iconic Indian comfort food has been in the middle of a soup over alleged high levels of monosodium glutamate (MSG) and lead, which were found in samples tested by authorities in India.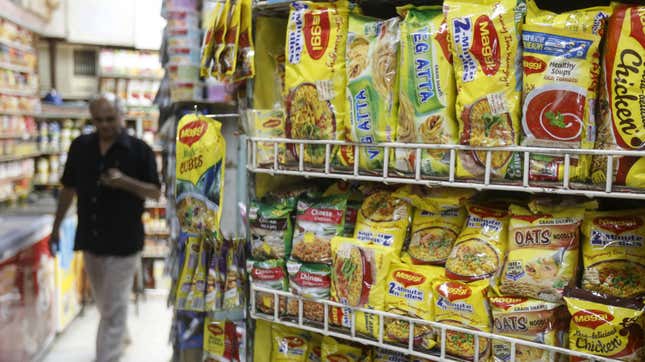 Keeping up with the population growth
Much has been made of Africa's population doubling by 2050, and the problem of feeding all those people. First there is the issue of producing enough raw food material (basic commodities like wheat and rice are among Africa's primary imports). But as Musonda's fellow panelist and president of the International Fund for African Development, Kanayo Nwanze points out, current productivity on existing agricultural land is only at 40% of its potential. With the right leadership, policies, infrastructure, technology and support, doubling production is theoretically in the bag.
But Africa's import/export disconnect isn't just about production. It is also the result of a shift in the global food trade, where processed food is beating out bulk commodities. Africa, like the rest of the world, wants processed food and wants it now. According to a Michigan State study cited here, the demand for processed food in Africa is expected to increase seven-fold over the next 25 years. In Africa's increasingly urban spaces, middle class consumers are eager for the convenience and flavor that processed food delivers; for the poor, it's both aspirational and in some cases economical.
Challenges to the industry are numerous. Competing with cheap imports from huge multinationals to deliver quality, quantity and consistency is no small task. High costs around raw materials, distribution and even packaging are all barriers. Musonda struggled to source enough sorghum for Java's second slated product, a breakfast cereal, primarily because SAB, South Africa's dominant brewing company, had pre-bought the year's supply. Nonetheless, Java has plans to launch the porridge next year, and every major supermarket in Zambia is slurping up its noodles.