With one of the most expensive Internet connectivity prices in the world, South African consumers find it diffiuclt to completely love their mobile network providers
Yesterday, the South African Customer Satisfaction Index (SAcsi) released results from their annual consumers' satisfaction survey on South African mobile networks. The results show a decrease of 1,3% from the previous year.

While this may not be a sharp decrease, the factors for the slight decrease dissatisfaction are important, and may influence the ability of mobile networks to retain their customers in the long run.
Amongst others, the high prices of out-of-bundle rates, high mobile contract cancellation fees and poor coverage, particularly in some of South Africa's rural areas, is leaving South African mobile customers frustrated.
Ookla – the U.S-based broadband monitoring company – recently revealed that if you're living in South Africa, you are likely to pay an average rate of $23.08 per Mbps, compared the global median rate of $5.36 per Mbps.
A closer look at how the various mobile networks fare against each other in terms of consumer satisfaction reveals that the top two providers – Vodacom and MTN – continue to rank the highest. This is due to their extensive total country coverage ratio, despite the fact that both networks charge the highest prices.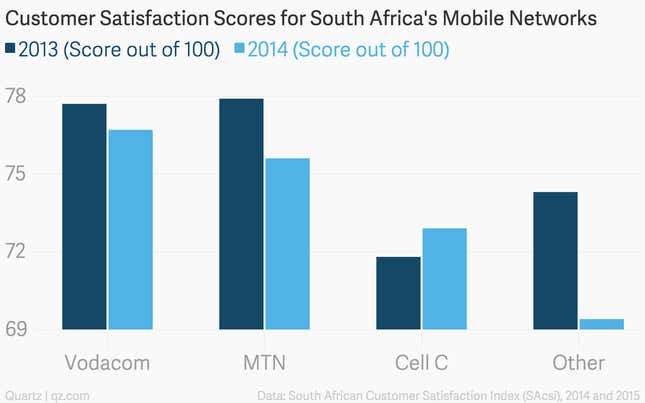 Two players could change the game
Not all is doom and gloom for South African consumers. Cell C, the country's third largest and probably most entrepreneurial mobile network provider – and FNB – the popular South African bank once voted the most innovative bank in the world, plan to turn the tide by lowering prices dramatically
Just three weeks ago, Cell C announced its aggressive Contract Buy-Out campaign. The campaign offers new customers up to $ 1000 to buy themselves out of their existing mobile contracts, to take up one of Cell C's competitive Epic contract options for voice and data.
If Cell C's Contract Buy-Out campaign is successful, it could gain 500 000 new customers that could benefit from its already low mobile data prices (particularly for mobile data bundles below 500mb) and other benefits, like free access to popular messaging service, Whatsapp.
Another suprising – and unlikely player – to keep an eye one is the South African bank, FNB. Last week, FNB announced that it would launch FNB Connect – the bank's own virtual mobile network that aims to compete with the 3 leading market players.
When FNB Connect launches next week on June 15, the mobile data price landscape will look like this: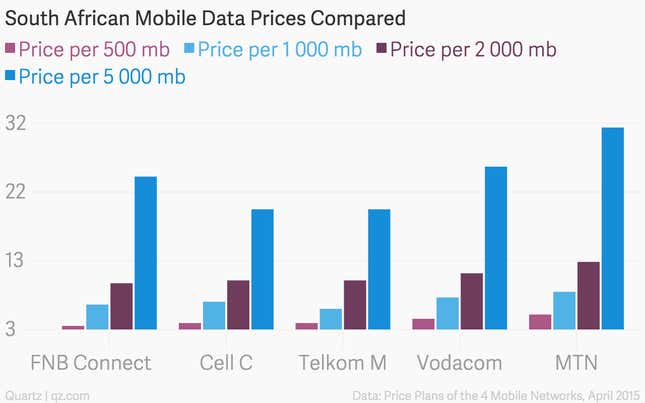 With the launch of FNB Connect and Cell C's Contract-Out Buyout campaign gaining attention; South African consumers could look to Cell C and FNB Connect for cheaper mobile data rates.