There has been so much discussion about the impact of the mobile phone on the financial industry in African countries but this tweet by former bank boss Michael Jordaan, who is now a venture capitalist, best sums things up:
FNB Connect is the new "virtual mobile network" launched by the South African bank that aims to compete in the telco space in the country. Meanwhile, M-Pesa is the mobile money platform, owned by Kenya's Safaricom, that has reconfigured the financial industry in east Africa.
Something similar may be happening in Nigeria. Now, mobile money has not quite taken in Africa's largest economy. Despite having close to 80% mobile penetration and 57% of the adult population lacking access to formal financial services, the number of Nigerians who "actively" use mobile money is a measly 0.1%. Lack of trust, awareness and knowledge about the services are some of the reasons given as to why this may be the case.
But the opportunity is clearly there and banks and telcos are coming together to try to tap into this market. The latest effort is by GT Bank, a Nigerian financial institution, who are partnering with the No.3 mobile network Etisalat Nigeria to create GTEasySavers, a savings account designed to enable "underbanked" and "unbanked" individuals to open a bank account via their mobile phones.
The mobile market in the region is becoming increasingly lucrative, which explains this initiative by GT and Etisalat. In 2014, the west African mobile market was valued at $17 billion, according to data by Ovum, a market research firm. Mobile data revenue totaled $3 billion, a 30% jump from the year before, with non-SMS data revenues contributing 84% of this haul.
West Africa now has 47 million mobile phone subscribers with smartphones, another growth area.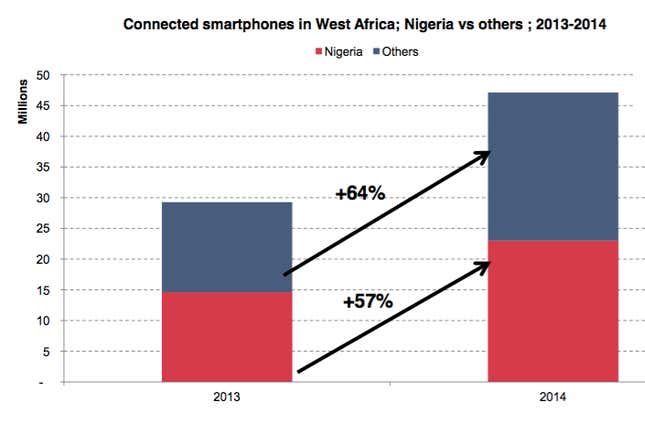 Industry insiders expect mobile money to be the dominant revenue generator as the market grows with e-commerce increasingly gaining in significance.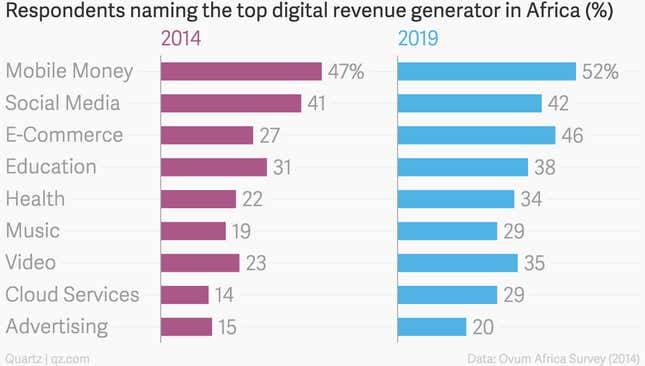 With the rise of smartphones, expect to see e-commerce benefiting considerably from more consumers. For example, Jumia, the Nigerian-based online retailer saw 27% of its sales coming from smartphone users, the Ovum report explains.
Elsewhere, Spectranet, a Nigerian internet service provider (ISP), is joining forces with iROKO TV, the online video service. The ISP has a 24% share of the country's LTE market, whose subscribers will now be able to access content on demand from iROKO through its Android app or Spectranet's website.