Six years after developing the prototype of a solar-powered hearing aid, Deaftronics, a Botswana-based company, is readying to take its technology global.
Later this month, the company will pitch its pioneering solar-powered hearing aid at the Global Innovation Through Science and Technology (GIST Tech-I) in Kenya. The global contest–which takes place on the sidelines of US President Barack Obama's Global Entrepreneurship Summit (GES)–is an initiative of the US Department of State that seeks to find impactful science and technology companies making a difference in over 74 countries.
Since the launch of the company in 2009, Deaftronics has sold over 10 000 solar-powered hearing aids. Priced at $200 per unit, each unit hearing aid comes with four rechargeable batteries that can last up to three years and a solar charger for the rechargeable batteries. The product is cheaper than many popular hearings aids, that can start from around $600.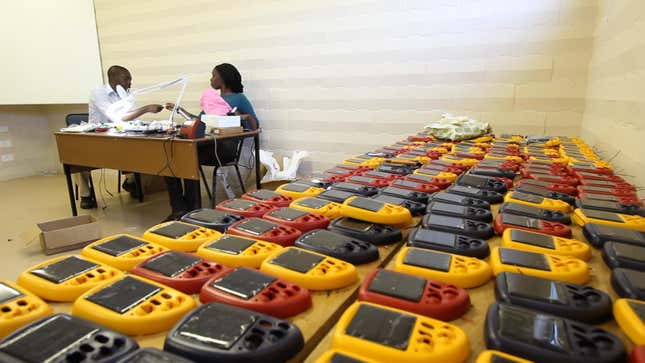 It was while working at Godisa Technologies Trust in Botswana–an NGO that used to manufacture hearing aids for the deaf–that Tendekayi Katsiga noticed a gap in the market: most hearing aids, distributed by international and local NGOs, were not being used for longer than a month. Batteries ran flat, and the replacement cost, $4 per month, was too high for many of the users.
"People have to make the choice between spending money on necessities and replacing batteries for their hearing aids. This is no easy trade-off," says Katsiga.
By the end of 2008, Godisa Technologies Trust ran out of funds and closed its doors.
"We couldn't let this project die. So the six of us came together and decided to form Deaftronics–a company that would build on Godisa's work."
The Godisa technology has won some recognition outside of Africa. Howard Weinstein, a Canadian volunteer who helped Godisa develop and market the first prototype for the solar-powered hearing aid, later left to open an award-winning Solar Ear company in Brazil.
Now Deaftronics is preparing to take its home-grown business to the world stage on its own terms–looking beyond solar-powered hearing aids. The company is developing mobile applications to assist with detecting hearing loss in early stages.
"Over the years, we have realized that providing solar-powered hearing aids is not the solution to preventing hearing loss. We want to  start developing mobile apps that work as an early warning system to detect hearing loss as it develops."
Deaftronics was co-founded by: Sarah Phiri, Clement Bagwausi, Thato Noke ya Phiri, Botsile Ntshekgisane and Dwilliane Keatloletwe–with Katsiga leading the charge. It now has five other part-time staffers–who all have hearing impediments.
"Having team members who have hearing impediments has kept us on our toes. The product is made for and by-people with hearing impediments," says Katsiga.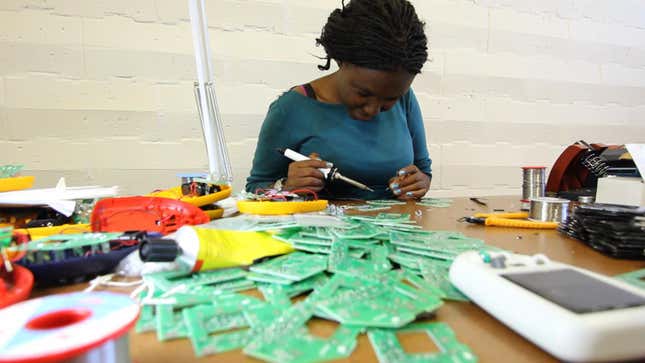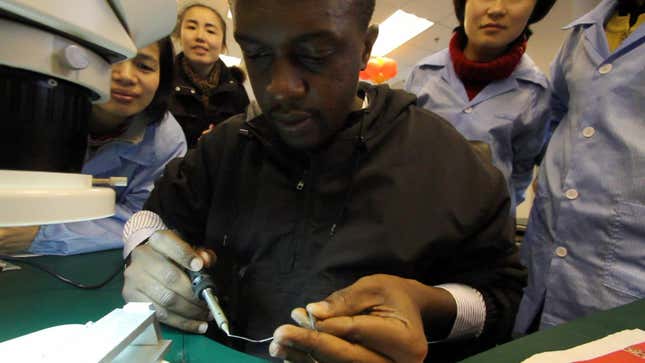 When they started off in Botswana, Deaftronics contacted local schools, public clinics and hospitals offering their solution. But they hit a stumbling block.
"Botswana is a small country. Only 20 000 people have hearing impediments here. The government has a good public health system, which means hearing aids are widely distributed. So we needed to look for a market elsewhere." Their first out-of-country orders came from Zimbabwe (Katsiga's home country), South Africa, Kenya and Angola.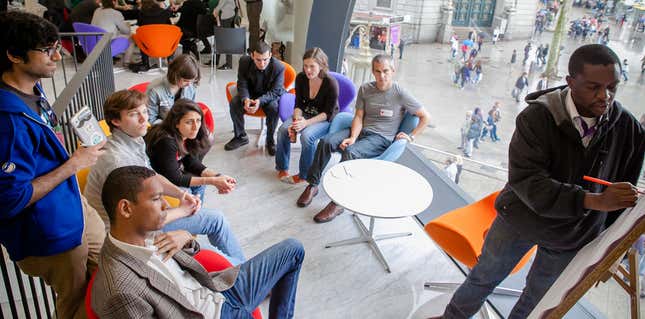 Katsiga points out that besides manufacturing hearing aids, Deaftronics is increasingly being asked by public health organizations to share their insights on developing solutions for the hearing impaired, and how to counter the stigma attached to using hearing aids.
"We have crazy ideas for this, like using headphones as hearing aids. Many people listen to music on their cellphones, why not programme a pair of headphones that work as a hearing aid? That way, no one knows if you're using a hearing aid or not," says Katsiga.