As Tanzania gets ready for a general election in October, thousands of officials from Chama Cha Mapinduzi, the ruling party, are gathering this week in the country's political capital Dodoma to decide on who will be their presidential nominee.
The lack of an incumbent and anointed successor running makes this nomination an historically wide open race and has attracted an unprecedented 38 candidates looking to succeed president Jakaya Kikwete. The president is constitutionally barred from running again after two five year terms in office.
With the opposition divided–despite an agreement to field 'joint candidates' for the upcoming election–it is unlikely that they will mount as strong a challenge as they did in 2010, when they won almost 40% of the popular vote. It means CCM (or its earlier iteration, TANU) which has run Tanzania since 1961, will be in charge for at least another five years after the elections.
The likelihood of retaining power in east Africa's second largest economy has emboldened CCM and its candidates.
A pivotal election
A potential new constitution, management of the emerging oil and gas sector, unemployment, poverty and regional integration are just some of the issues awaiting the next president. While Tanzania, a country of nearly 51 million people, boasts one of the fastest growing economies in the world, there are concerns that the benefits of growth are not trickling down to the larger population.
"During the Kikwete years, there has been success in many areas but most of it excludes those on the lower echelons of society," said a former cabinet minister, who sought anonymity so he can speak candidly about electoral dynamics.
The 6% annual growth the country has averaged over the last several years has not translated to job creation or reduced poverty, critics argue. In 2001 poverty levels stood at 35.7% and fell to 33.4% in 2007 (pdf), according to researchers from the London School of Economics' International Growth Centre. In their words, 'real growth over the past decade in Tanzania has not been reflected in rapid reduction in poverty rates.' It is no surprise, then, that 63% of voters say that "poverty and economic issues" are the most important challenges facing the country.
An adviser to one of the candidates said both the party and the country find themselves at a critical moment in their history.
The contenders
While there are 38 declared candidates, conversations with party insiders and analysts reveal only eight candidates have a real shot at winning.
This includes the current vice president Mohamed Gharib Bilal, former chief justice Augustino Ramadan and prime minister Mizengo Pinda. Also with a chance is the justice minister and former UN deputy secretary general Asha-Rose Migiro, foreign affairs minister Bernard Membe and deputy minister of science and technology January Makamba, whose youthful, social media-savvy campaign has impressed. Former prime minister Edward Lowassa is in the contest as well and so is Mark Mwandosya, who came third in 2005 losing to Kikwete, and is hoping that the second time will be the charm.
There are so many current members of the government running for president that one commentator quipped, it "makes you wonder who is running the country right now."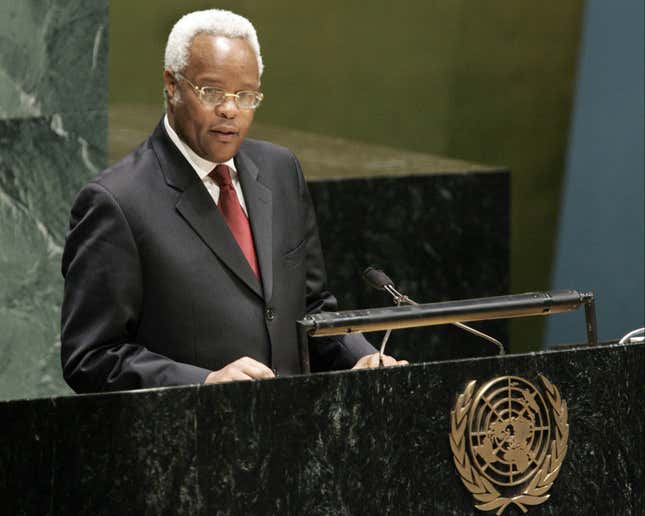 Of the contenders on show, Lowassa goes into this week in Dodoma the front-runner. A key architect of Kikwete's landslide victory in 2005, he has the name recognition, fundraising prowess and access to the party machine that his allies say makes him unbeatable.
But his resignation in 2008 after being implicated in an energy scandal has some party strategists nervous that it might give the opposition an opening in the general election.
Party insiders say that Membe stands to benefit the most should Lowassa's political history prove to be too polarizing for the party. "Membe's chances are at 60-75%," the former cabinet minister said.
But some analysts told Quartz that Membe and Lowassa are such bitter rivals, and their respective camps so loyal, that in order for the party not to risk a rupture, neither one can be selected as the nominee.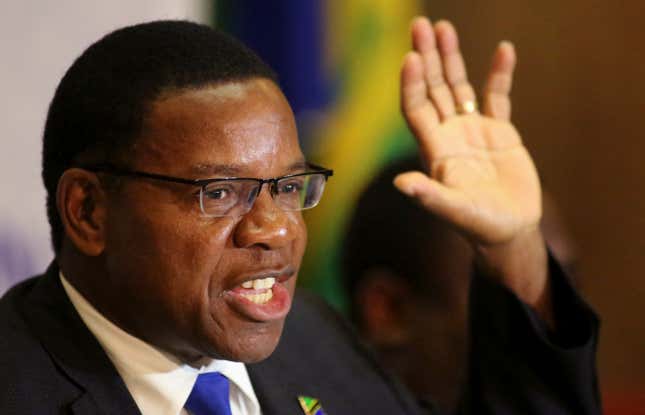 Should this scenario transpire, the fight becomes a free for all and any one of the remaining candidates could emerge with the nomination. A Makamba, whose appeal to the youth can make a difference, or an old party loyalist, such as Mwandosya or Pinda, can sneak through.
"The final candidate has to get support from all the different constituencies within the party," Ahmed Salim, an analyst with Teneo Intelligence, a political risk firm, told Quartz. "You wanna have a candidate who receives party wide support but also is electable come October. So electability is key."