Zimbabwean president Robert Mugabe defies his age. At 91, he is one of the world's oldest leaders, yet he maintains a punishing schedule–particularly for travel.
Since the beginning of the year Mugabe has been focusing on international diplomacy through his dual roles as chairman of the African Union and the Southern African Development Community. It probably makes him one of the most influential heads of state in Africa at present.
Just halfway through the year, Mugabe has made some 25 trips, zig-zagging from one continent to another on official duty or for medical check-ups. He's been to the Far East five times, Jakarta, Moscow, New York, and Tokyo, and visited more than a dozen African capitals, some of them twice or more.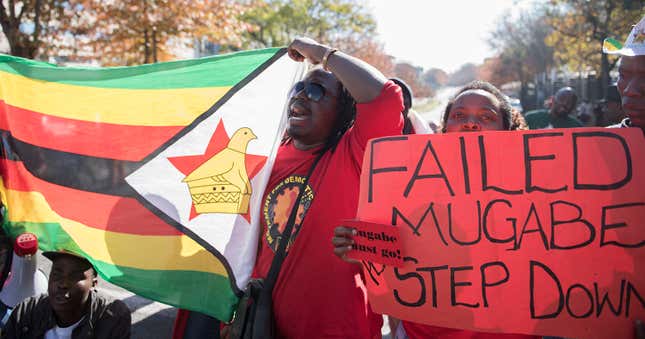 The Zimbabwean paper, Daily News, claims he has clocked more than 220,000km (137,000 miles). Mugabe's critics at home say he is spending so much time in foreign lands, he's become a tourist in his own country.
He is usually accompanied by his wife Grace–four decades his junior–and a bloated entourage of more than 100 people at taxpayer expense. Reports indicate that the expenses from the trips from the beginning of the year until now have cost around $70 million.
A man of charisma and undoubted rhetorical talents, Mugabe takes these foreign trips as opportunities for grandstanding before international audiences and to put out his message as one of Africa's last remaining defiant voices.
It's rare for an unpopular African leader to feel so comfortable leaving home so frequently. Many a coup d'etat on the continent take place when the head of state is out of the country. And after Mugabe's 35 years in power, Africans across the continent have started to notice his longevity.
This was best captured in May at the inauguration of the Nigeria's president Buhari. Mugabe showed up as usual but, perhaps due to lax security, local media activists Sahara Reporters were able to confront him and question his endless rule. "Mr President, don't you think it's time to step down sir?,"  asked the reporter repeatedly. The video has now been watched over 400,000 times.
But in Zimbabwe itself there is no consensus among the rank and file about what should happen without the political godfather, who has such a strong grip on the country's levers of power.
Divide and Rule
Mugabe's failure (or deliberate reluctance) to anoint a successor has created uncertainty in the corridors of power. Last December, after firing his vice-president (accusing her of plotting to overthrow him), he named not one, but two replacements. This works to his advantage: The two vice presidents keep each other in check, they are suspicious of each other, and are kept are busy fighting to be seen as more loyal to Mugabe than one another.
Known for being manipulative, Mugabe has encouraged factions in his own party, ZANU-PF, for his own political survival. As such, there is nothing remotely predictable about what is going to happen after he dies. Given simmering internal strife, this puts Zimbabwe's stability and future at risk.
ZANU-PF has already confirmed that Mugabe will run again for president in 2018. Assuming he wins, he will be 94 when he starts his eighth term in office. If his travel so far this year is anything to go by, he'll still be going strong.