I am part Yemeni, part Baluchistani, part Indian, and part black African. In coastal east Africa, this is not particularly unusual. Thousands share similar backgrounds to mine. We are known as the Swahili people.
We share a fusion of Arabic and African heritage that goes back centuries. Trade between the two cultures led to inter-marriages and the creation of a cosmopolitan tradition bound by a common language of Kiswahili.
This exchange of culture also brought with it Islam. Historians say the first mosque in the region was built in the eighth century, in Lamu, a town in east Kenya.
However, urban legend says Islam arrived much earlier in the region. One story goes that a community in Kilwa, a town in southern Tanzania, traveled to the desert of Arabia in the seventh century, after hearing stories of a man claiming to be a prophet of God. They wanted to prove it to themselves, legend goes, so they sailed to what is now Saudi Arabia and upon their return, convinced of the Islamic message, built what is now considered the oldest mosque in east Africa.
Of course, little of this can be authenticated. What it does reveal is how deeply entrenched Islam is in this part of the world.
This weekend, like other Muslim communities around the world, Dar es Salaam in Tanzania marked the end of the holy month of Ramadan with Eid ul-Fitr celebrations.
And on this day, like no other in the year, one can see the truest manifestation of the Swahili sensibility.
Just look at former president Ali Hassan Mwinyi, for example, leading Eid prayers on Saturday (July 19): His Arab-inspired dishdasha robe was paired with his east African kufi hat, personifying that Afro-Arabian fusion that is what it means to be a "Mswahili." (In the photo above, current president Jakaya Kikwete greets Muslims after Eid prayers.)
Like Mwinyi, on Eid day, I donned my dishdasha and attended Salat al-Eid at my local mosque. (That's me in the middle, from last year.)
For breakfast, I ate chapati—a delicious cultural import from India, whose relationship to the region goes back centuries—with Swahili chicken soup and milky tea, also borrowed from our Indian cousins.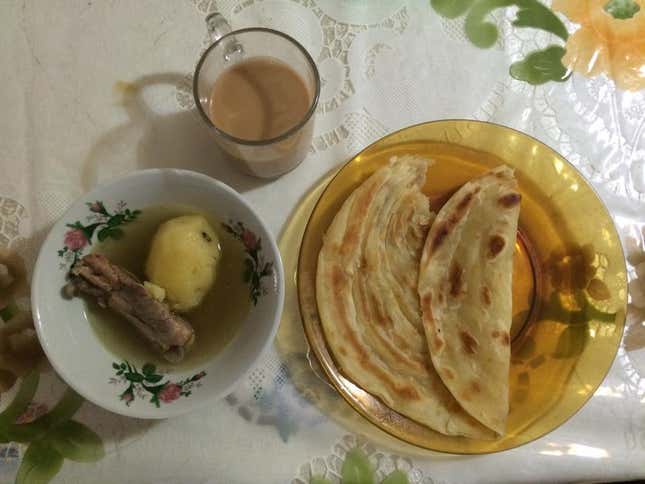 For lunch, I shared a meal of roasted biryani, another Indian dish, with cousins, aunts and uncles, like thousands of other families in the city.
In the evening, in Dar es Salaam and elsewhere along the coast, folks danced to Swahili music—Afro rhythms imbued with an Arabic aesthetic—like this:
This cosmopolitanism, inherent in our food, language and music, is a manifestation of our Africanness, enriched by its Arabic and Indian influences. As we would say in east Africa, ndiyo uswahili wetu: This is our Swahili culture.