Kenya's infamously congested capital city has turned into a ghost town as residents stay home to avoid the chaos surrounding US president Barack Obama's arrival tonight (July 24).
Companies have told staff to stay home, schools have closed, and families are buying enough groceries to last them the weekend as they hole up at home until Obama leaves on Sunday.
"We are stocking up; it's like it is a storm," Abdullahi Halakhe, a security expert who lives in Nairobi, tells Quartz. Halakhe says he and his family have bought supplies of bread, milk, juice, eggs and have told friends that social engagements will have to wait until after the weekend. "Unless there is an emergency, I have no plans for leaving my place."
More astonishing for the residents of Nairobi are the cleared streets. Home to an estimated 700,000 vehicles, it is the most congested city in sub-Saharan Africa and the fourth most congested in the world. Fearing possible traffic jams caused by road closures and Obama fans hoping to catch a glimpse of the president's motorcade, many motorists have stayed away. "Is this Nairobi? Where is the traffic? The noise?" one resident wrote online.
This is how traffic normally looks in the city: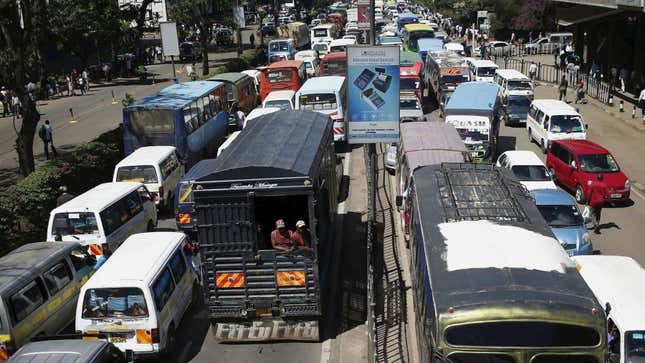 And how it looked today and last night: