China has promised to spend millions refurbishing the same sports stadium that US president Barack Obama will use to address the Kenyan public this weekend. The timing is probably not a coincidence. Just two days before the president's much-hailed arrival in Nairobi, Beijing pledged a total of $17 million in funds for the stadium and two other initiatives in Kenya.
Beijing has been ramping up what some like to call the government's "stadium diplomacy" in Africa. As of 2010, there were 50 sports arenas across Africa that were built with Chinese support, given as either gifts or funded via low-cost loans. The Moi International Sports Center, where Obama will speak on Sunday (July 26), was also constructed with a Chinese donation in the late 1980s. Chinese-funded stadium projects are currently underway in the Ivory Coast and Malawi.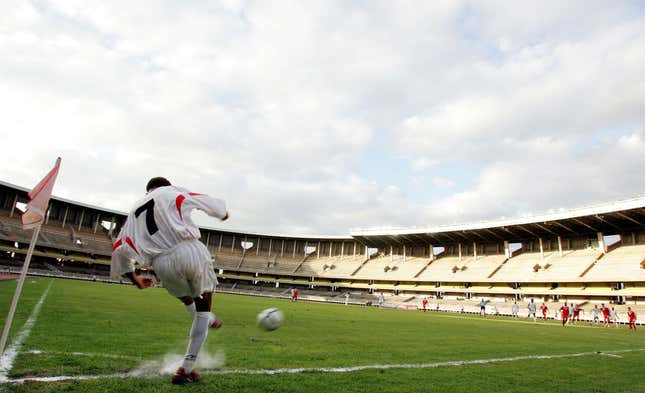 An updated Moi stadium is a reminder of Nairobi and Beijing's budding relationship, which has benefitted from a period of cooler relations between the US and Kenya. In 2013, Obama passed over his ancestral homeland while charges by the International Criminal Court against Uhuru Kenyatta and his deputy were still pending. Kenyatta quickly paid a state visit to China and soon trade between the two countries boomed, reaching a record $5 billion in 2014, an increase of over 50%, according to China's ambassador to Kenya, Liu Xianfa.
China's reach into Kenya is not lost on Obama, who told the BBC earlier this week that China has "been able to funnel an awful lot of money into Africa, basically in exchange for raw materials that are being extracted from Africa." He added, "What is certainly true is that the United States has to have a presence to promote the values that we care about."
But China's efforts in Kenya don't stop at sports arenas. China is building a railway between Nairobi and the port city of Mombasa and has announced the financing of an $86 million solar power plant. The $17 million Chinese grant will also go toward building the largest Confucius Institute, a government affiliated language and culture center, as well as repatriating Somali refugees.