When people think of soccer legend Didier Drogba's career, they remember that magical night in Munich when he singlehandedly won Europe's Champions League for Chelsea.
"It was a 'Drogba moment' and one that probably only he was capable of," one commentator said, a sentiment that captured the enormity of his performance that night against Bayern Munich.
To me, the performance that stands out the most was in the 2005 Champions League quarterfinal, also against Bayern. Over the course of two games, which Chelsea won 6-5 on aggregate, he controlled the tempo for Chelsea, bullied the Germans defense, and was just generally unplayable. That was Drogba at his imperious best.
And it is this pedigree that the Montreal Impact will be getting after the Canadian club announced Drogba's signing earlier this week—the latest addition to US Major League Soccer.
At 37 years old, the former Ivorian captain is obviously not the player he once was. Last season, while on his second spell at Chelsea, he played only a bit part during the London's side march to the league title. But there were flashes of his old self, like this thumping header against Manchester United.
There have been a lot of African players over the years of varying statures who succeeded beyond the continent. Liberia's George Weah, Ghana's Tony Yeboah, and Cameroon's Samuel Eto'o are just a few that come to mind. But none, I would venture to say, is as iconic as Didier Drogba.
Just think about it. For a player who didn't really hit the big time until he was 26 years old—when he signed for Chelsea for £24 million (then $44 million) in 2004—Drogba has won everything there is to win at club level. Four Premier League titles, a Champions League trophy, multiple FA Cups, a Turkish league title (when he briefly played for Galatasaray) makes up his 12 trophies he has collected thus far.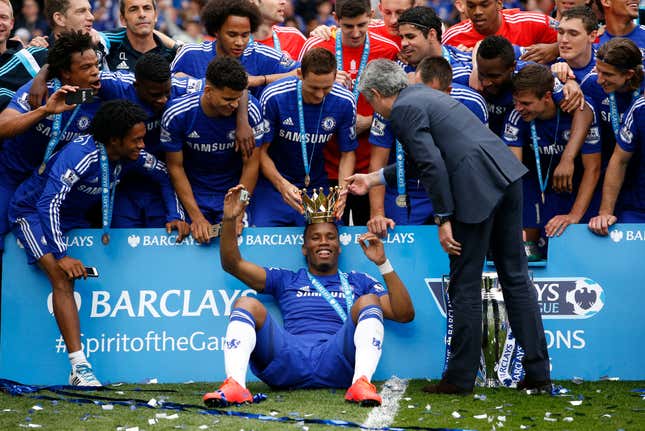 Yes, he was never able to duplicate this winning style as captain of Cote d'Ivoire. Nevertheless, he led his country to three straight World Cup appearances and the final of the African Cup of Nations twice—nevertheless losing both times. All the while he scored 65 goals in 104 appearances before retiring last year.
But Drogba's contribution to his country transcends football. The two-time African footballer of the year, arguably stopped a civil war that had enveloped Cote d'Ivoire in 2006 when he implored the warring factions to stop their fighting. And for that, he has entrenched his legend not only back home, but in Africa as a whole. Now, which other football player can say that?
And for Chelsea fans, things like this have immortalized his name in the pantheon of the club's greats.