When Air Force One landed in Nairobi last week, a local television broadcaster almost burst into tears watching the US presidential plane cruise down the tarmac. "I can't believe it, history is being made as we watch," she said. In China, meanwhile, the tabloid Global Times ran a cartoon of Barack Obama dressed in tribal wear, and state news agency Xinhua accused the US president of performing a "kinship political show."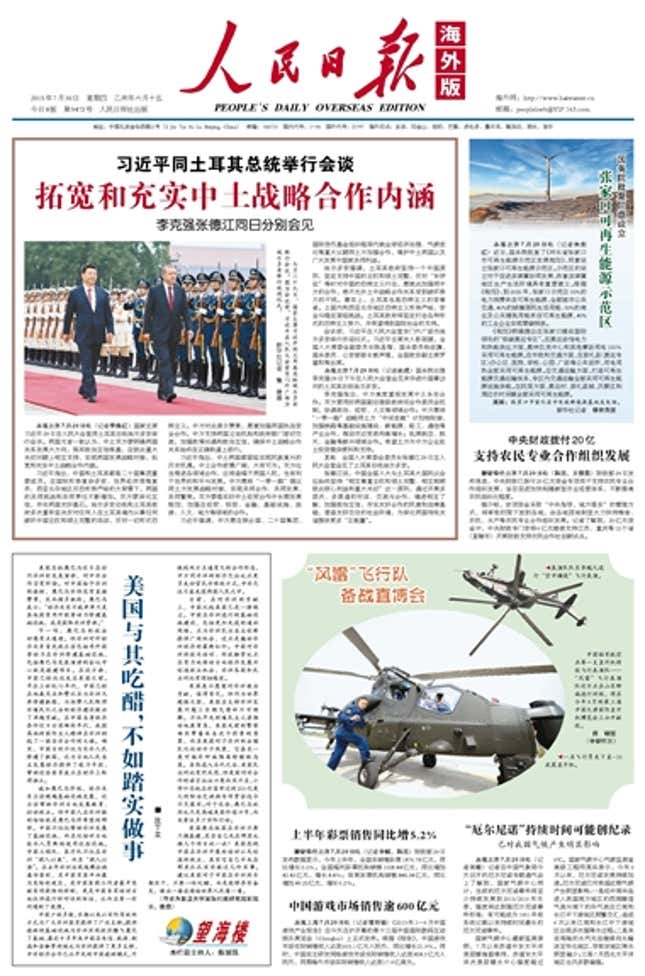 And while Kenya's main newspaper, the Daily Nation, spent most of the president's visit debating where he spent the night and interviewing his relatives in Kenya, the People's Daily, the official newspaper of the Chinese Communist Party, ran an editorial (at the bottom left of the front page pictured here) at the conclusion of Obama's trip saying "America should drop the jealousy and do its part in Africa."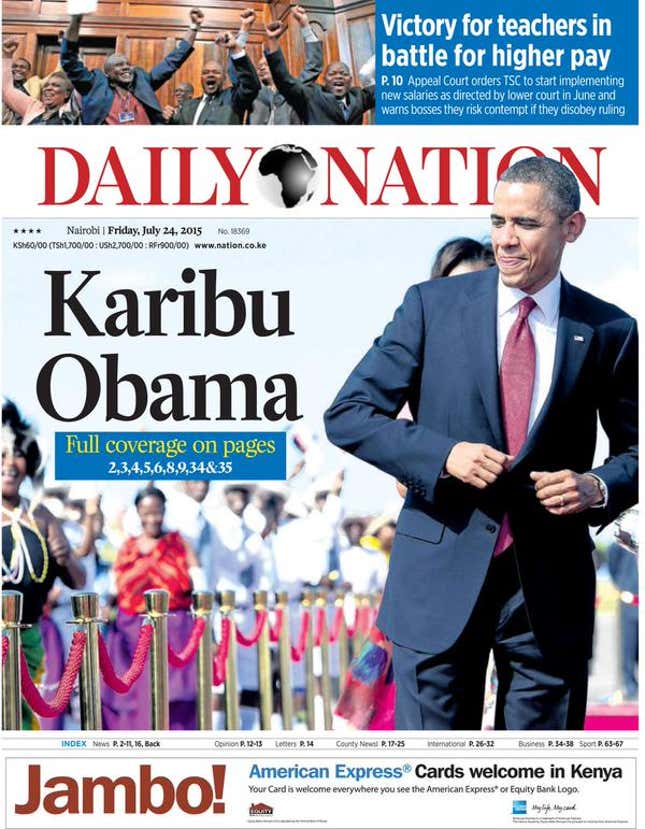 The very different media treatment applied to Obama's visit illustrates two extreme views—one unswervingly critical and the other not critical enough—toward America's relationship with Africa.
China's interest in this issue is an economic one. The country surpassed the US to be Africa largest trading partner in 2009 and since then has entrenched itself in the region by building roads, railways, ports, telecom, and other major infrastructure projects, as well as hosting high-level diplomatic exchanges. As Chinese coverage of the visit noted, the African Union headquarters where Obama spoke in Ethiopia was built by the Chinese (link in Chinese).
Though much of the coverage on the African continent was fawning, China's criticism of American lecturing of other countries on corruption, human rights, and equality rang true for at least some in Africa who listened to Obama's speeches. "When I speak to my friends and family here in Kenya, their feeling about America is 'clean your own house first,'" Teresa Mbagaya, a Kenyan-American entrepreneur in Nairobi, told the BBC.
An editorial by Andrew Mwenda, founder of the East African magazine The Independent, also sounds remarkably similar to China's stance:
"Obama has no moral right to lecture Africans on democracy, human rights, and clean government because his country has been sponsoring corrupt and cruel policies against black people at home and thieving tyrants on our continent…In any case, is the US such a model country in governance to give Obama the moral authority to lecture Africans?"
Perhaps not, although it's worth remembering that China would have at least as tough a time claiming any moral high ground here. Meanwhile, the regions' economic entanglements deepen.