To help tackle its problems of deforestation, climate change, and pollution, Uganda has launched a beauty pageant to promote environmental awareness. The prize? A brand new car.
"Miss Earth Uganda is a beauty pageant in search of the most beautiful young Ugandan lady who is very knowledgeable about her environment and who will strongly stand as an ambassador for the protection and preservation of the environment," pageant organizer Victoria Nabagereka told local media.
When asked about the environmental impact of a car, organizers told Quartz that coordinators are "really thinking hard" about the issue and brainstorming which car would best promote environmental awareness.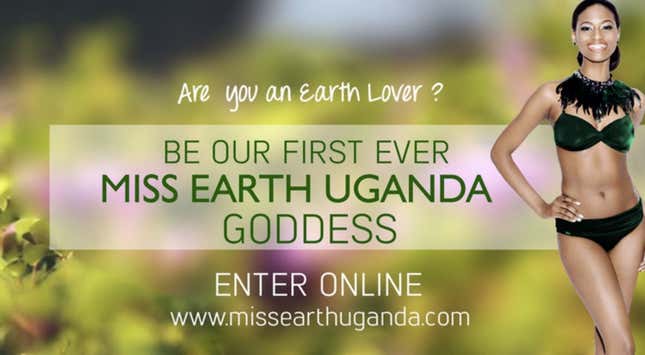 The winner will also receive an apartment, a monthly allowance, and will represent Uganda at the Miss Earth competition in the Philippines later this year. The pageant, to be held in September, is organized by Uganda's National Forestry Authority and its National Environmental Management Authority (NEMA).
Though a car may not be the best award, any effort helps. Uganda, which loses about 6,000 hectares of forest every month, is at risk of losing all of its forest by 2050, according to NEMA.
Deforestation and land conflicts are believed to be increasing as oil exploration in the country expands. Even chimpanzees in the Budongo Forest have turned to turn to clay for food as the number of raffia palm trees quickly diminishes. The country also faces water shortages and food security problems as a result of growing oil exploration.