We recently changed our mission statement at Microsoft to "empower every person and organization on the planet to achieve more." Last week, in Kenya, I had a firsthand opportunity to see this mission in action.
We often read about the world being flat, with people having access to information from everywhere. The reality is that that's not always the case for the 4 billion people in the world who don't have access to the Internet or the economic opportunity that comes with connectivity. This is the situation for a majority of rural Kenyans. And as I saw last week, they are hungry for connectivity to pursue their livelihood and passions.
Richard Thanki is an economist from the United Kingdom I met last week in Kenya, where he is researching the impact of connectivity there. I doubt it will surprise people to learn that he has found that the vast majority of residents think affordable access to the Internet will improve their lives and the lives of those around them. Maybe more poignant, however, is his finding that the prevalent notion among the people there is that without online access, you're separate from the global community.
As an industry, it's beholden upon those of us who work in the tech sector to bridge this digital divide—to democratize access, and therefore, information and knowledge. The world will have a brighter future if kids in rural Africa have the same access to the Internet as kids in rural America, or kids in urban areas everywhere.
This isn't simply altruism. The fundamental argument is that connectivity helps on two fronts: with skill development and entrepreneurialism. When you have Internet access, you improve GDP. In fact, for every 10% growth in Internet access, the GDP growth in a country is likely to increase by 1.38 percent.
Personally experiencing this last week in Kenya was inspiring. I saw the impact of a disruptive technology, TV white spaces, that is providing connectivity in rural Africa and in a collection of countries around the world — and in the same way the PC democratized computing, this technology has the potential to democratize Internet access across the planet.
TV white spaces transmits a wireless Internet signal using the underutilized broadcast bandwidth abundant in most countries, including rural Kenya. A local startup, Mawingu (which means "cloud" in Swahili), is using this technology, along with solar power, to bring the Internet to schools, the local government, the Red Cross, a health care clinic and young entrepreneurs.
This technology is fast and reliable, and it's changing the lives of the people who live there. Microsoft helped launch this effort nearly three years ago in partnership with Mawingu as part of our 4Afrika initiative, which aims to improve global competitiveness in Africa.
This technology is disruptive, but it's also affordable and has essentially created a market for bringing low-cost connectivity to rural Kenya. Mawingu installs solar cells to power WiFi hot spots that are linked together with TV white spaces connections. It sells connectivity for $3 per month, and even in a rural area with very limited finances, it is finding that this is affordable to people and even enabling them to grow their own incomes.
In Nanyuki, a town of 30,000 nestled near the base of Mt. Kenya about 125 miles north of Nairobi, most of the residents don't have electricity – but many today, thanks to Mawingu and TV white spaces technology, have affordable access to the Internet. A task that might have taken five hours before, such as walking to a different town solely to send an email, now can be accomplished in five minutes. This connectivity is empowering everyone: farmers, students, teachers, entrepreneurs.
I visited an Internet café there—located inside a solar-powered shipping container–connected to Mawingu wireless using TV white spaces.
The first person I met was an entrepreneur, Chris Baraka, who, thanks to the connectivity in the café, is making a living as a writer. This simple shipping container is his office. He is now teaching under-employed youth in rural Kenya how to make money from the Internet. Each day he is taking the abstract idea that connectivity can lead to GDP growth and is making it real. And in a place that some might regard as a remote corner of the world, he was living on the cutting edge of technology.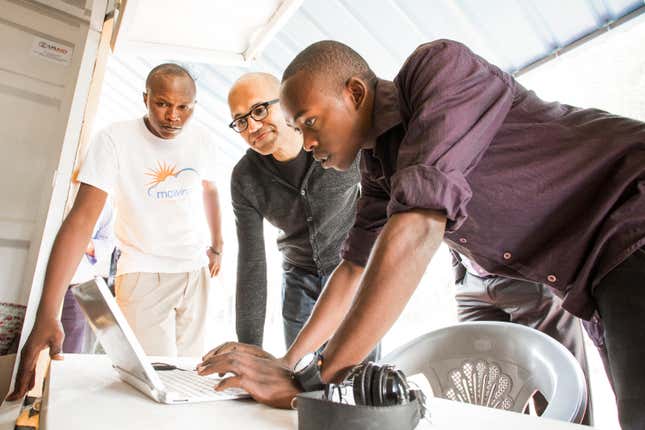 Chris was hardly the only person putting the Internet to good use. Farmers come by the container, known as the "Solar Cyber," to check market prices on crops. They are making good use of a powerful tool not only for knowing what to grow and when to sell, but also for circumventing the charges of a middleman who controls that information today.
With connectivity comes agency. We saw this again and again in Nanyuki. And it was perhaps the clearest when I saw the impact of technology on the lives of students.
I visited Burguret Secondary School, a collection of stone buildings, down a winding road, a few miles from the center of Nanyuki town. We upgraded the school's computer lab to Windows 10. It was amazing. Right there in the middle of Kenya they could upgrade. Why? Because they have Internet connectivity.
I was inspired by the students, and their passion. We dream about everyone having access to the same information and, potentially, the same tools and opportunities. In Nanyuki, I saw that notion in action.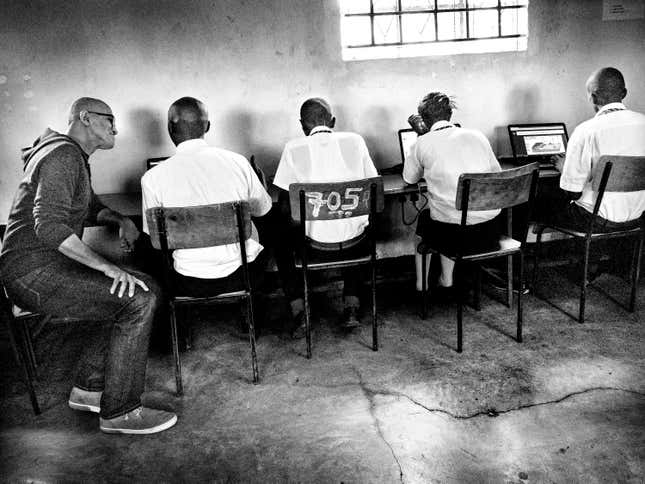 I spent some time with these kids in rural Kenya at a school, searching the Internet. One student was looking up electromagnetic induction. He introduced me to a site I'd never heard of. It was extraordinary. I had traveled 9,000 miles, sat down in a classroom in a school that lacked running water, and found that I was the pupil learning from the student next to me. All because of the Internet and the power of this information at his fingertips.
I had the chance to visit one other school, Gakawa, where we used Skype to connect with a classroom in India and took turns guessing where each class was located. The students quickly figured out the correct countries, but they wanted to dive deeper. They used the Internet to pinpoint the regions and towns. It was exciting to see their enthusiasm and curiosity.
If you think about many parts of rural Kenya, existing broadband is not likely to be economically viable anytime soon. So there's essentially a market failure. In the news you read about drones and balloons as a solution to this challenge, yet TV white spaces technology is not pie-in-the-sky. This technology is happening today, and not just in Kenya. At Microsoft we're working with partners such as Mawingu on pilots in 15 countries across five continents that have reached just over 200,000 people.
When I think about what I saw in Kenya and what it means for the future, it's clear that new technologies will empower more people and spread opportunity more evenly.