South Africa is generally a divided, unhappy and increasingly corrupt country with its growth potential hampered by contradictory and ever-changing government policy.
It needs fast economic growth to reduce high unemployment and poverty but that has not been forthcoming for two reasons. The first is that expenditure to redress the apartheid legacy has reduced the resources available for investments in the knowledge economy through investments in research and development, infrastructure and tertiary education.
The second reason is that many of the government's honourable and justifiable goals have been accompanied by large amounts of wastage, policy experimentation and cronyism.
This is the conclusion we reached in a recent paper that updates three scenarios we set out last year ahead of South Africa's national elections in May 2014.
The three scenarios
The original three scenarios were for South Africa through to 2030. This is the same horizon as the government's National Development Plan (NDP). These were:
Bafana Bafana – named after the country's bumbling national soccer team. We concluded that this is South Africa's current pathway, fumbling along with no clear leadership or direction.
A Nation Divided. In this scenario the ruling African National Congress (ANC) adopts populist policies to shore up support. Eventually both the economy and the ANC pay a heavy price.
In Mandela Magic, the government implements the NDP. This could either come about through a revitalisation of the ANC or the growth of competitive multiparty democracy.
Three factors contributed to a deterioration of our growth forecasts since our first paper was published. The first is the severity of the electricity constraint on South Africa's growth prospects. This became more pronounced at the end of 2014.
The second factor was the weaker than expected global economic recovery, particularly in Europe—an important trading partner. And lastly, continued domestic policy flip-flops have compounded poor leadership and a lack of vision.
Until 2022-23, when the electricity supply problems are expected to be resolved, South Africa will grow at a rate well below that forecast in the original Bafana Bafana scenario. A number of characteristics of the low-road scenario Nation Divided are also evident. This reflects the lack of a clear policy direction, poor leadership and little commitment to the actual implementation of the National Development Plan, which became government policy in 2012.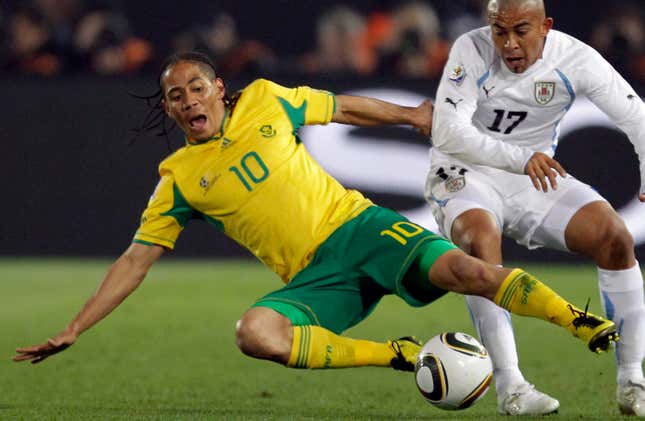 Most ominous is the possibility South Africa could have its international credit rating reduced from investment grade to junk status. This would have a debilitating impact on growth prospects, raising the cost of debt and reducing investor confidence.
We point to a concern that policy proposals do not appear to be subject to sufficient cost-benefit analysis, and that there is an absence of policy coherence in government. Two recent examples that illustrate this are:
Our updated forecasts, now to 2035, are for lower economic growth. We paint a generally less optimistic picture of the country's prospects than we did 18 months ago.
We conclude that competition for resources within the ruling ANC fuels factional politics. Graft and corruption flourish as government expands its role in the economy in an effort to increase employment. Key state-owned companies are in disarray. Increasingly, chief executives—many without the necessary experience or qualifications—fall foul of the law, or another faction of the ANC.
After an expensive golden handshake, a new executive is parachuted in with similar lack of experience but good political connections. The net effect is often the sustaining of a nebulous patronage network facilitated by efforts to grow black industrialists overnight.
In sharp contrast to the thorough and detailed impact reports on a variety of areas regularly issued by the presidency, little time is spent looking ahead. As a result, short-term political considerations lie at the heart of decision-making and the country's growth is slow.
Outlook for growth
Under the original Bafana Bafana scenario we had forecast an average growth of 4.1% to 2035. This was reasonable given the positive fundamentals of South Africa. In time, the investment made in education, health and poverty alleviation since 1994 accentuate South Africa's substantial growth potential.
We have since revised this forecast down by 0.6 percentage points to 3.5%. Although this may seem a small difference, the power of compound interest means it is not. The downward revision means that the economy will be 10% smaller (equivalent to a difference of US$106 billion) than it would have been were the economy to grow an average 4.1% to 2035.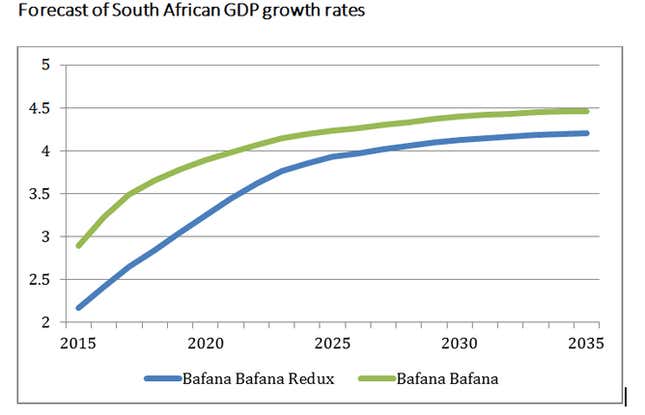 The lack of a dependable electricity supply will have a severe dampening effect on the South African economy for up to a decade. This means that the country is unlikely to escape from its middle-income trap in the near term.
The level of human, social and capital investment still needed after the end of apartheid will continue to limit investments in the knowledge base and other sources of improved productivity. However, in the long run, these investments made in social and human capital will have a positive impact on growth. This is a key reason for the relatively robust growth rates forecast to 2035 under all scenarios.
Yet, even under these rates of growth, South Africa is likely to grow more slowly than its potential, below the average rate forecast for upper middle-income countries and slower than the average for the rest of the Africa.
This would not be a new phenomenon. South Africa has grown more slowly than other upper middle-income countries for several decades, giving rise to high unemployment and poverty.
This article was originally published on The Conversation. Read the original article.