China's biggest arms manufacturer has been selling weapons to South Sudan's government, whose military has been accused of a "scorched earth" campaign of razing entire villages, burning people alive, and raping children.
According to a United Nations report released this week, the state-owned China North Industries, better known as Norinco, sold the South Sudan government $20 million worth of missiles, guided missile launchers, grenade launchers, almost 10,000 automatic rifles, and 24 million rounds of ammunition last year. China promised last year to halt all arms sales to South Sudan after it was discovered to have sold $38 million of small arms and lights weapons to the government. So far, Chinese officials have not responded to the report.
China's involvement in South Sudan is one place where its long-standing policy of political noninterference is being eroded by economic concerns. A consortium led by a Chinese state oil company, China National Petroleum Company has been funding a militia to guard an oil field in the Unity state, according to the Swiss research group Small Arms Survey earlier this year. China is one of South Sudan's largest oil buyers, along with India and Japan.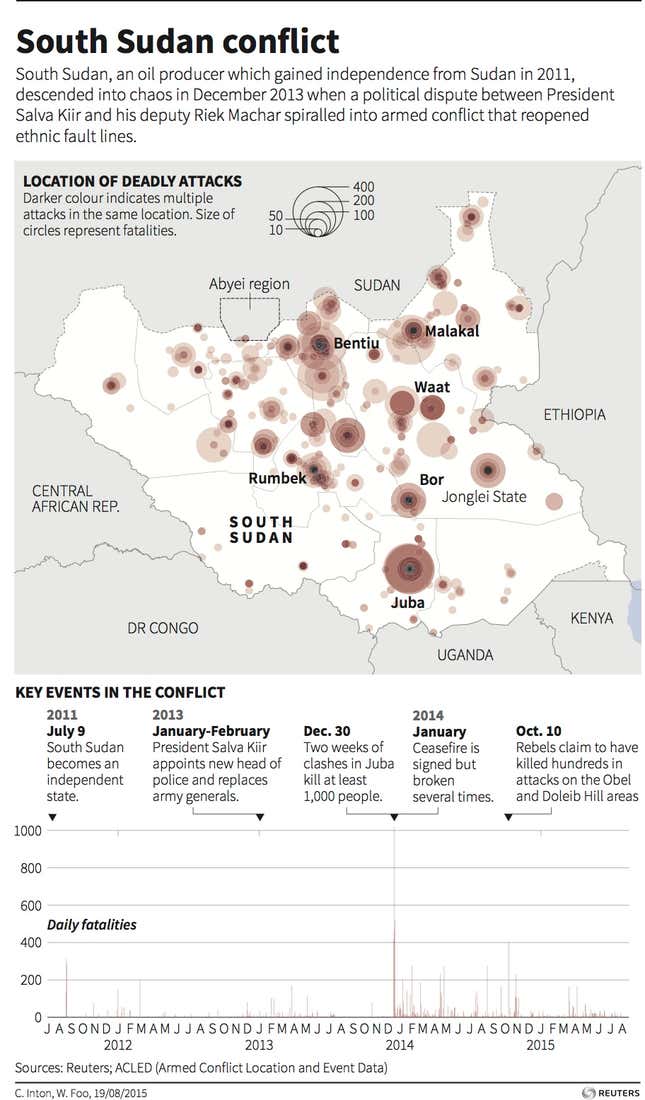 Norinco has also recently made headlines because of its new partnership with Chinese e-commerce giant Alibaba—the two have each taken a 50% stake in a Chinese satellite navigation system in a joint venture worth two billion yuan (about $310 million.)
East African leaders are gathering today, Aug. 26th, in the South Sudanese capital of Juba to discuss a potential peace deal to end almost two years of conflict. The United States is threatening to impose an arms embargo and sanctions if leaders don't meet a Sept 1 deadline to cease the violence that has killed tens of thousands and displaced more than 1.6 million people. Nigeria's ambassador to the United Nations said the UN Security Council is prepared to "act immediately" if no peace deal is signed.