Hundreds of migrants attempting to reach Italy drowned after two boats capsized off the coast of Libya yesterday (Aug. 28). Today, some 160 bodies were found floating in the sea and 40 were found inside a fishing boat where they were apparently trapped when it sank, according to Doctors without Borders. Rescuers managed to save 201 people, most of whom have now been sent to a detention facility.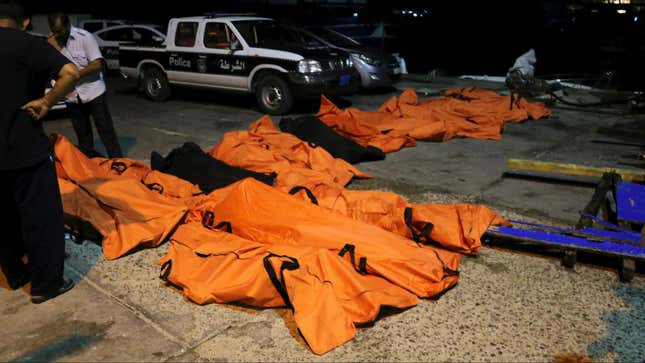 Europe's migration crisis is not abating. The deaths, when confirmed, will add to the toll of 2,300 people who have already died trying to reach Europe by the Mediterranean this year, according to the International Organization for Migration. The biggest share of the dead come from sub-Saharan Africa.
Ongoing violence in East Africa and the Middle East has swelled the ranks of refugees attempting to cross the Mediterranean to Europe, which the United Nations describes as deadliest migration route in the world. Meanwhile, Italy's Mare Nostrum naval rescue program, responsible for many rescue operations, has been replaced by a cheaper and more limited European Union version, Operation Triton.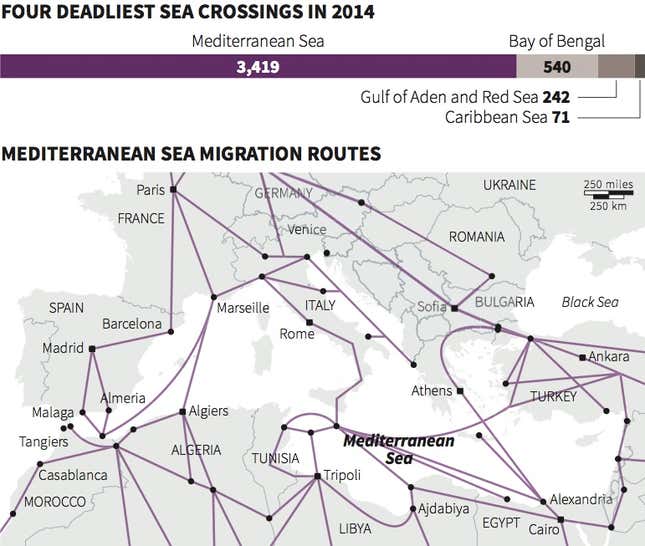 The capsized boats carried around 400 passengers from throughout sub-Saharan Africa, Syria, Pakistan, Morocco, and Bangladesh, a security official told Reuters. Many of the bodies were left overnight in the sea because Libyan coastguards did not have enough light to work.
Libya has turned into a major transit point for migrants trying to reach Europe, with the town of Zuwara near the Tunisian border a popular smuggling point. Those who are caught are often kept in overcrowded detention centers for months. And for those that make it into Europe, dangers remain. More than 70 refugees were found dead in a truck abandoned in Austria this week, apparently from asphyxiation.