A hard plastic suitcase is being marketed as the thing to transform education in Africa. The team behind BRCK, a rugged mobile modem and wi-fi router designed for Africa's tough conditions, unveiled its latest Kenyan-made solution to Kenyan problems in a glossy, Apple-esque show today (Sept. 22). BRCK Education—whose team includes some of those behind Ushahidi, the open disaster-mapping software—unveiled a highly durable tablet called the Kio and the accompanying "Kio Kit."
Contained in a suitcase like those used to transport expensive camera equipment on flights, the kit includes 40 of the tablets, a BRCK connected to a portable server, and a wireless charging station that can draw power from either conventional sources or solar power. When turned on, the tablets connect to the BRCK, whose server stores textbooks, Wikipedia for Schools, games, and other digital education resources. At the end of the lesson, the tablets are slid into slots in the suitcase, where they charge via wireless charging connections. Updates to the educational materials made in Nairobi are automatically uploaded to the tablets.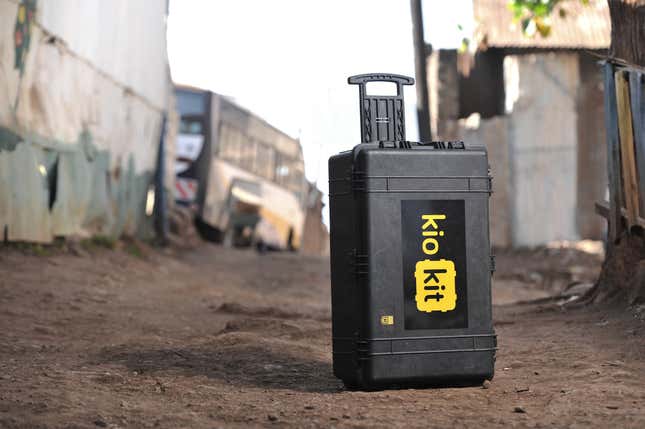 The idea of bringing digital textbooks and interactive educational games to classrooms isn't new. The for-profit Bridge International Academies, for example, puts Barnes & Noble's e-reader, the Nook, in its students' hands in more than 400 schools across Kenya.
But the Kio is seriously durable—dust-proof, water-resistant, and able to withstand drops of up to 70 cm (more than two feet). And so is their charging capacity. Wireless charging eliminates the problem of children breaking and losing charger cords. It's theft-deterrent too. The tablets cease to work if they're too far out of range of the server, and users can't upload software on their own.
BRCK's latest product answers many of the problems that digital education advocates have run into as they try to come up with an entrepreneurial solution to Kenya's educational shortfalls, such as little or no electricity, outdated and expensive textbooks, and inconsistent or nonexistent internet access. As if to highlight these problems, when the Kio Kit was unveiled the majority of Kenya's students were sitting at home because of a weeks-long teachers' strike.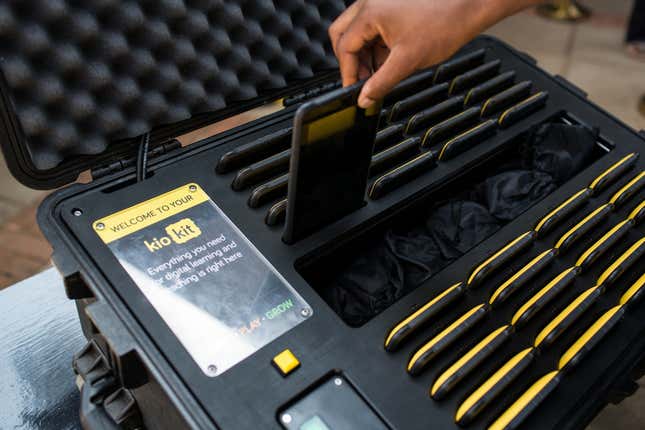 Where this trips up, possibly, is the cost. Each Kio Kit costs $5,000. Chase Bank Kenya has stepped in to lend the money to schools with no collateral. Schools will pay the bank back in monthly installments of 45,850 Kenyan shillings ($436) spread over 12 months, with no interest. But few Kenyan schools, even the low-income private schools where BRCK expects to roll this out, have that kind of money.
BRCK is hoping that parents and the community will step in to fill the gap. "If we can deliver value, parents are excited to help pay for that value," Philip Walton, the chief operating officer for BRCK, told Quartz.
It's true that in Kenya, when families have disposable income, better education is one of the first things it's spent on. But based on BRCK's assumption of four classes of 40 students using one kit (two hours per day per class), that's about $2 per pupil. It doesn't sound like much, but many Kenyan students often miss the first day of term because their families couldn't scrounge together the school fees on time.
For the Kio Kit to come into classrooms, therefore, schools are going to have to get more than just the parents on board. "Education is not just about the parents," says Peter Ngunyi, president of BRCK Moja. "Education is a communal thing. [We hope] to get a little from the government, a little from parents, a little from the community."
Alternatively, they could find a donor to sponsor the whole thing. That model is getting some traction. The Africa Wildlife Foundation for example, is planning to bring the Kio Kit to schools across rural Ethiopia, Democratic Republic of Congo, Zambia, and Uganda for starters. The International School of Kenya, a private school in Nairobi attended by children of diplomats, NGO country directors, and UN employees, is sponsoring a Kio Kit for a school in Nairobi.