It's been a drama-filled election season in Tanzania. A former president has branded the opposition "idiots." One candidate took to doing pushups to demonstrate his fitness to be president. Another suggested he was worthy of support based on his religion. Meanwhile, a parliamentarian trying to hang onto his seat physically assaulted one of his challengers.
And we are not done yet. There is still a little over three weeks to go before voters head to the polls on Oct. 25.
Ostensibly there are actual issues that voters would like to hear discussed.
But the campaigns aren't offering much substance, and the mainstream media overall has failed to demand any.
Thank goodness for the cartoonists.
In Africa, humorists have sometimes had a freer rein to challenge authorities than conventional reporters. And in Tanzania, political cartoonists are proving this once again, and raising the issues that matter most to voters this year. At a recent exhibition at Vipaji Gallery in Dar es Salaam, it was evident how central their role has become to Tanzania's public discourse.
"The main reason to have this exhibition is to bring these cartoonists closer to their audience," Gadi Ramadhani, curator of the Domocrazy Exhibition, tells Quartz. "So many people see cartoonists in the newspapers but they never meet these people. So we wanted them to interact with their audiences."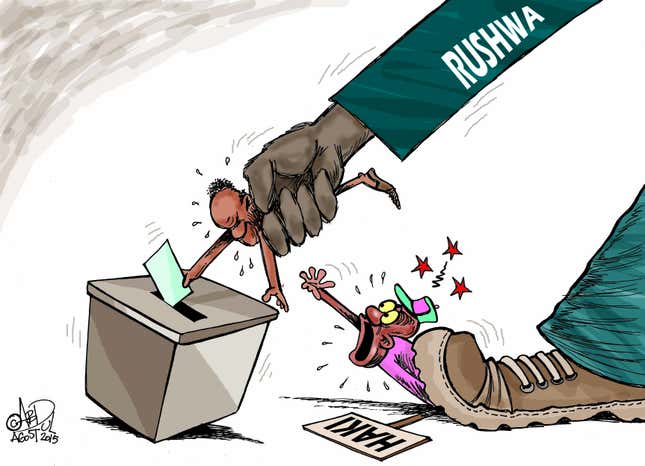 Despite the political nature of most of the work on display, Ramadhani insists that politics was not the primary prism through which he made his selection of works to feature in the exhibit. What he wanted to showcase, he says, are cartoons that best capture the moment Tanzanian voters have come to find themselves in.
"Cartoons normally talk about what is happening, reporting on the time that people live [in]," he says. "As part of the exhibition, you can see violence, you can see corruption, you can see politics a lot, you can see so much of what is happening."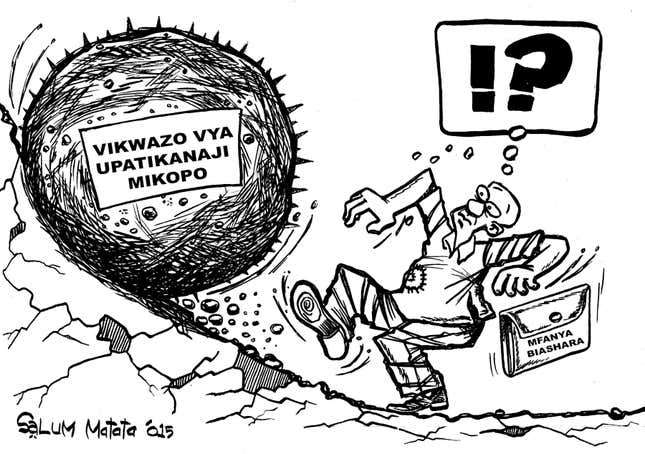 For Ramadhani, an artist himself, cartoons play a crucial role in civic life. In a single frame, a cartoonist is able to convey, with profound clarity, a concept or an idea. For folks who may be less engaged with what's happening in the news, a cartoon can inform, educate, and provoke some thinking about what is happening.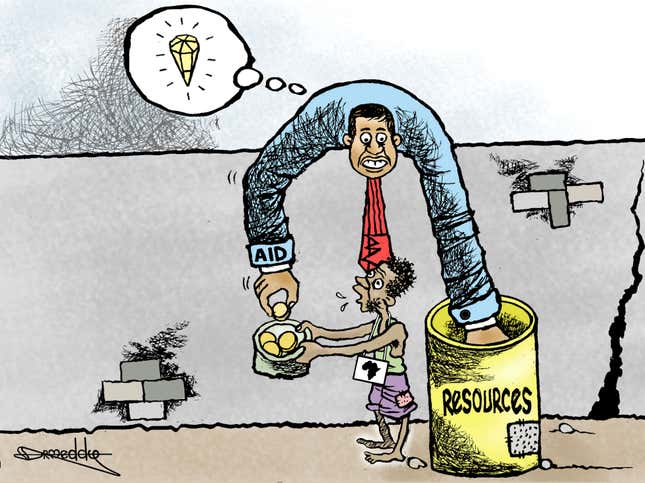 "We have to remember all these cartoonists are also voters," Ramadhani says. "They are also coming from this society. They are experiencing everything that we are experiencing." But their artistic sensibility gives them a different lens through which they observe the realities, he explains.