While undersea internet cables may have brought a 20-fold increase in bandwidth in Africa, last-mile connectivity—the infrastructure to extend networks into homes, schools, and workplaces—remains a challenge. Most African countries simply lack the fiber to distribute bandwidth more locally.
In response, Google in 2013 launched Project Link in Africa. It builds fiber-optic networks to help internet service providers (ISPs) and mobile operators provide faster and better broadband.
Uganda's capital was the first test site for Project Link. Two years after the launch, Google has built more than 700 kilometers of fiber across Kampala—making it possible for 13 ISPs and mobile operators to deliver faster connectivity speeds, and roll out 4G LTE services in the city.
The project's success in Uganda has now led the company to Ghana. On Oct.1, Google announced that Ghana would be the second African country involved in Project Link. The search giant says it wants the fiber network in Ghana, which will cover the cities of Accra, Tema, and Kumasi, to be twice the size of its Kampala network.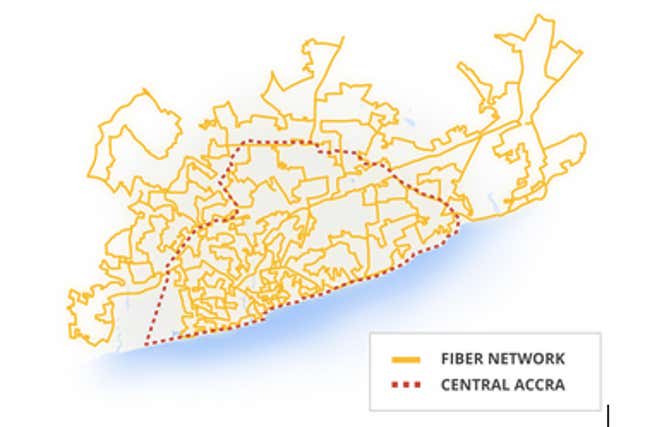 What's in it for Google?
By building fiber networks in Africa, Google is also creating opportunities for itself. For a company that gets 90% of its revenue from ad sales, helping ISPs and mobile operators provide fast and reliable internet to more people is a no-brainer. In Africa, where according to the International Telecommunications Union only 10.7% of households currently have access to the internet, the opportunity is immense.
The extremely low penetration rates for fixed-broadband subscriptions in Africa represents another potential cash cow for Google.
Unlike its US-based fiber enterprise—Google Fiber, which offers internet access directly to consumers—Google sees Project Link as a "wholesale retailer," offering access to a fast and reliable fiber network to ISPs and mobile operators, at a lower cost than they otherwise might face, which they could then turn around and sell to their own customers.
A model like this could be a boon for African ISPs and mobile operators, which often complain about the constraints of regulation and the high costs of deploying fiber services directly to homes and buildings.