Rwanda is on track to build what's being billed as the world's first airport for drones next year. This week, Rwanda's Civil Aviation Authority said it is drafting regulations on unmanned aerial vehicles to be submitted to the government's cabinet. Officials hope regulations will be in place by 2016, when a pilot project for cargo drones is set to break ground.
Transportation is difficult in the small, landlocked East African country otherwise known as the "land of a thousand hills." That's part of the reason why the architectural firm Foster + Partners last month proposed plans for a three-building "drone port" for aircraft carrying emergency medical supplies to rural areas.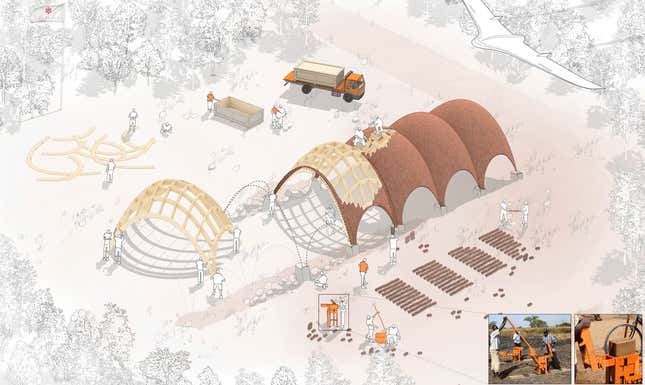 Few details have been given about the drones except that they will have three-meter-wingspans and be able to carry 10 kg (22 lb) across 100 km (about 62 miles). Almost half the country should be accessible by the drones, which will also courier electronics, spare parts, and other commercial goods. (While the US military has bases for drones, the Rwanda project appears to be the first airport for civilian or commercial use.)
Near the airport will be a health clinic, a center for making more drones, and a kind of post office. If successful, 40 other drone ports could be built across the country and perhaps elsewhere in the region, according to the proposal.
So far, Rwanda stands in sharp contrast to its peers South Africa and Kenya, where officials have installed strict regulations on the use of drones. The nation's tech-friendly policies are likely another reason why Rwanda is the site of the project. From electronic business registration—enabling companies to set up within three days, compared to the 30 days required in neighboring Uganda—to a program giving all children laptops, technology has played a large role in the country's economic turnaround since a genocide in 1994 brought the economy to a standstill.