CAPE TOWN—South African students took their fight against tuition fee increases to the country's parliament today (Oct. 21), one week after the #Feesmustfall protests began at the University of the Witwatersrand in Johannesburg and spread to 15 other universities across the country.
On a day of protest that called for a #NationalShutDown on social media, students forced their way through the gates of parliament before being driven back by police firing tear gas and stun grenades.
Students held a sit-in on the parliamentary grounds, demanding that the country's higher education minister, Blade Nzimande, come out to address them, chanting "Fees must fall" and "We want Blade."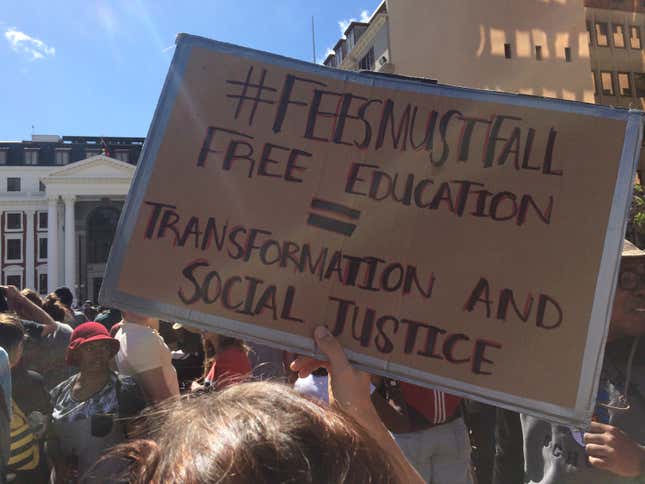 "We want the minister of finance and higher education here. They must come out and tell us what their plans are to resolve the funding crisis in universities. How are they discussing this budget without listening to us?" Simnikiwe Ndlovu, a student from the Cape Peninsula University of Technology, told Quartz.
Finance minister Nhlanhla Nene, presenting the annual medium term budget policy statement—an important event on parliament's annual calendar that sets spending priorities—made reference (pdf, pg. 10) to the weeklong protests and the challenges of funding higher education in South Africa.
"Honourable Members, we have been reminded this past week of the challenges of financing the expansion of further education and university opportunities. It needs to be said that disruption of learning is not constructive. But Minister Nzimande has rightly indicated the need to strengthen student financing further, and to find solutions where current arrangements are inadequate," said Nene.
South Africa spends more on basic education than on any other budget item. But students say the current budget is not enough to solve the funding challenges at South African universities.
"Increasing government financial aid for poor students will not be enough. A big part of the problem is that government has decreased its subsidies towards students—placing universities in a tough place to increase funds. So they need to go back to the drawing board and revamp the funding model," said David Maroba, a 3rd year finance student at the University of Cape Town.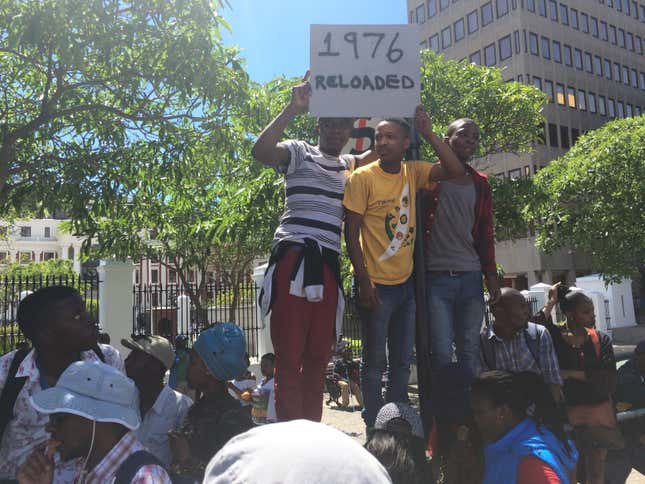 Yesterday, the minister of higher education and representatives of students and university vice-chancellors met to come up with a compromise: a 6% fee increase, compared with an initial proposal of a 10-12% increase, which sparked the demonstrations. But student leaders across the country and the leftwing opposition Economic Freedom Fighters (EFF) party have rejected any increase in fees.
The nationwide protests are the biggest student demonstrations since apartheid ended in 1994, the BBC reported.