After weeklong protests that completely shutdown South African universities and triggered violent suppression by police, students have succeeded in their cause: tuition fee increases for the 2016 academic year have been scrapped.
But the #FeesMustFall protests, led by young South Africans across racial and class divides, were more than just about tuition—they reflect a changing dynamic in South African politics.
Speaking at the country's seat of power, the Union Buildings, South Africa's president, Jacob Zuma, announced the decision this afternoon. "On the matter at hand, we agreed that there will be a zero increase of university fees in 2016. Discussions will continue looking at broader issues than the fees," he said.
The #FeesMustFall campaign—which started a week and a half ago at the University of the Witwatersrand in Johannesburg and spread to other public universities across the country—brought to light the stark reality faced by mainly young, poor black South Africans: education is expensive and is out of reach for many.
It also highlighted pressures on South African universities: student enrolments have been rapidly rising while government subsidies haven't kept up. To make up for the shortfall, most South African universities proposed fee hikes between 10 and 12% for the 2016 academic year.
After a week of intensified protests, punctuated by police brutality against students, the 10,000 students who marched to Zuma's office today were determined to have their demands met.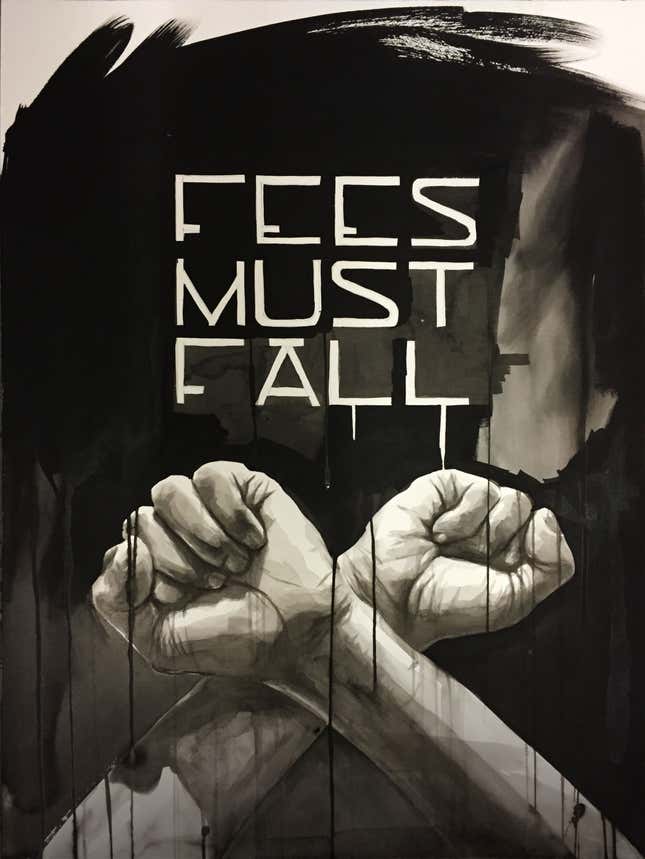 For Zuma, announcing the end of fee increases for this year in a terse five-minute speech was enough. But for the students, it may be just the beginning. This is the first time in post-apartheid South Africa that young South African united behind a cause that shook the nation, urging South Africa's older generation—especially those who were active in the anti-apartheid struggle—to listen carefully.  The past week was not only a berating of elders who have failed to deliver on Nelson Mandela's 1994 promise of "Free Education for All." It was also birth of a new kind of activism in South Africa.
In one of the more striking images from Cape Town, a student carried a placard with the following written on it: "Our parents were sold a dream in 1994, we are here for the refund."
After the fall of apartheid, South Africans, particularly students and young people, struggled to find their own voice. For the most part, activism in South Africa became mired in periodic protests that delivered no tangible results—not because the issues at hand were not worthy, but because political leaders always managed to convince "the people" that they were listening, even when they were not.
The thousands of young people who marched across South Africa this week would have none of that. From their historic march to parliament on Wednesday (Oct. 21), they were fearless, demanding that leaders be held to account for their failures. They made South Africa listen. But is what happens next that matter most if the spirit of #FeesMustFall is to continue.