MTN, Africa's largest mobile operator, announced today (Nov. 9) that CEO Sifiso Dabengwa has resigned with immediate effect. Dabengwa's resignation comes after Nigerian authorities fined the Johannesburg-based company $5.2 billion for flouting the country's SIM registration laws.
"Due to the most unfortunate prevailing circumstances occurring at MTN Nigeria, I, in the interest of the company and its shareholders, have tendered my resignation with immediate effect," Dabengwa said in a statement.
Over the past two weeks, news of the $5.2 billion fine has dominated headlines as the company, which boasts more than 223 million subscribers, tried to negotiate a lesser fine with Nigerian authorities. In 2011, Nigeria's Communications Commission introduced a law compelling mobile operators to register all SIM cards used on their networks. The rule was intended to track and curb criminal activities carried over mobile networks.
MTN had over 5.1 million unregistered SIM cards in Nigeria, which were supposed to be disconnected in recent months. When the company didn't switch them off, it prompted the $5.2 billion fine, or around $1,000 per SIM, despite the revenue generated by each connection averaging around $5 per month.
Dabengwa, a Zimbabwean-born electrical engineer with MTN for the past 16 years—the past four as CEO—has had a tough year, particularly in Nigeria. With a 49% market share and declining revenue per user, MTN has battled with tough conditions in the country:
Last month, an investigation by amaBhungane—a South African investigative journalism organization—and Finance Uncovered—a global network of journalists—alleged that the company was involved in a multi-million dollar profit-shifting scheme in some African countries, including Nigeria, as Quartz has previously reported.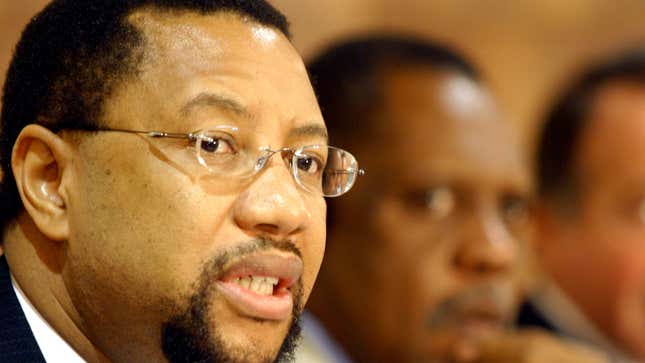 Taking over for Dabengwa at MTN is former CEO  and current non-executive chairman, Phuthuma Nhleko. He will act as MTN's executive chairman for the next six months, while the company looks for a permanent replacement for CEO.
Nhleko, who was MTN's chief executive for nine years before Dabengwa took over, is a seasoned South African businessman widely credited for boosting MTN's shares via expansion throughout Africa and the Middle East. Arresting the decline—MTN's shares have fallen by around 30% so far this year—will be an even bigger challenge.