European leaders are expected to offer African countries billions of euros in exchange for repatriating migrants that have moved to Europe in search of work, not to escape war. At a migration summit in Valetta, Malta this week the European Commission is expected to announce a 1.8 billion euros ($2 billion) in development funds for African nations that agree to the plan .
The fund is part of a larger list of initiatives to send some thousands of migrants that have entered the EU back to Africa or to keep them from entering the regional bloc at all. Incentives include more educational exchange scholarships, reduced travel restrictions, and more work permits for skilled immigrants. African countries will be asked to strengthen their pre-screening centers and refugees camps as well as re-admit failed asylum seekers, according to a draft of the plan.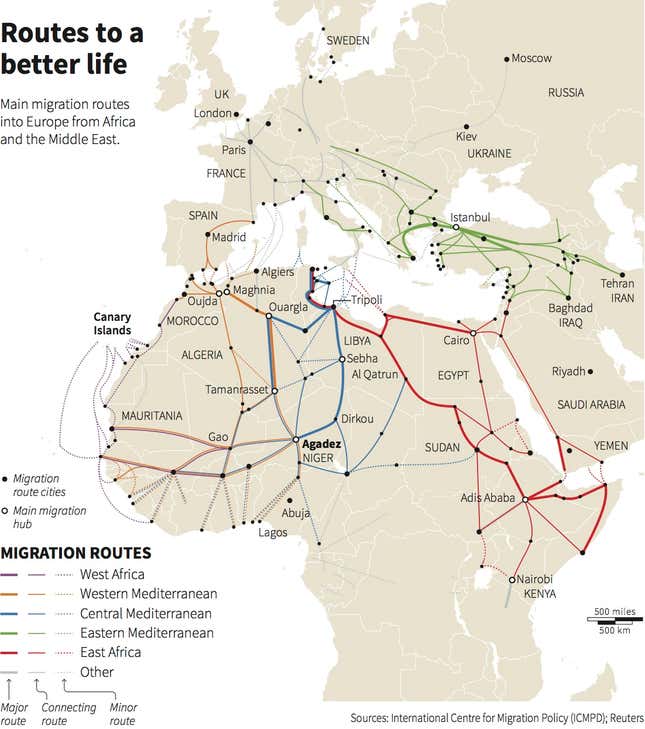 It's not a new strategy. Last month, the EU offered Ankara 3 billion euros in aid, as well as easier visa rules for help controlling the flood of refugees from Syria and elsewhere entering the EU from Turkey.
More than 773,000 migrants seeking asylum or job opportunities have entered the EU this year, a figure that could reach 3 million by 2017, according to EU estimates. Critics of the EU plan say that human rights will suffer as a result of more people are kept in transit camps or detainment centers. Others say that even if African nations agree, they are unlikely to be able to enforce any meaningful limits on migration to Europe.